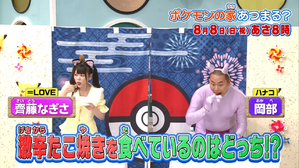 2021-08-08 ポケんち夏祭り企画! / すごい得意技をもったポケだちが特設ステージでSP披露
2021-08-08 Pokénchi natsumatsuri kikaku! / Sugoi tokuiwaza wo motta Pokédachi ga tokusetsu stage de SP hirō
2021-08-08 A Pokénchi Summer Festival Project! / Pokénds with Incredible Signature Moves Give us Special Performances on an Exclusive Stage
OP/ED List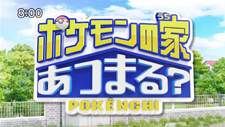 Gathering in the Pokémon House?

Pokénds with incredible signature moves give us special performances on an exclusive stage! We get to see popular duo Kaerutei's artistry and an acting competition where Okabe from Hanaco faces Nagisa Saito from =LOVE! And we'll have a giveaway campaign as well!

A Pokénchi Summer Festival project! The popular Kaerutei show how good they are at drawing! Everyone's stunned by the perfection on display! And Nakano, who says he's a super fan of a certain someone, is brought to tears when he finally gets to meet...?! We get a Pokémon solo musical, a super cool Okite no Uta dance performance, and even giveaways for the viewers! Summer festival-style Pokénchi is super cute! Make sure not to miss this!
No notes available for this episode.
Japanese Music:
Music Statistics:
Number of Assigned Tracks to the Japanese Original: 0
Number of Assigned Tracks to the English Dub: 0