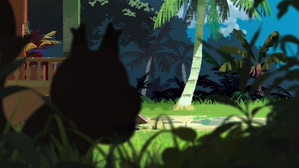 Japanese:
English:
Danii Meger
Voice Director
International:
Japanese Summary:
夏休みのある日。
キーノは、友だちのリエルとクーポと会うために、ひみつきちにやってきた。
いつものようにすごしていると、急にさむくなったことに気づいた3人。
外へ出てみると、夏なのに雪がふっている!?
そのげんいんをさぐるべく、3人はたんけんに出発する。


Japanese Summary Translation:
One day during the summer vacation, Keino came to the secret base to meet his friends, Riel and Koopo.
As they were going about their usual routine, the three of them noticed that it was suddenly getting cold.
When they went outside, they found that it was snowing even though it was summer!
To find the source of the snow, the three set off on an adventure.
No notes available for this episode.
Japanese Music:
Music Statistics:
Number of Assigned Tracks to the Japanese Original: 0
Number of Assigned Tracks to the English Dub: 0