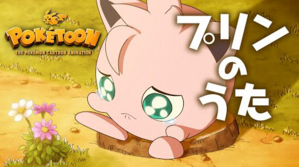 Japanese Summary:
ある日、モモが公園を通りかかると、泣き続けているプリンを発見。 プリンと仲良くなったモモは、後日同じくプリンを連れているともだちのアンズと出会う。 アンズのプリンが上手な歌を披露すると、モモのプリンはなにやら居心地が悪そうにしており.....?!


Japanese Summary Translation:
One day, Momo walks by a park and finds a Purin crying. She makes friends with the Purin and later meets its friend Anzu, who also has a Purin. When Anzu's Purin sings a good song, Momo's Purin looks uncomfortable and asks for help.....?!
Characters
Wild Pokémon

No notes available for this episode.
Japanese Music:
Music Statistics:
Number of Assigned Tracks to the Japanese Original: 0
Number of Assigned Tracks to the English Dub: 0