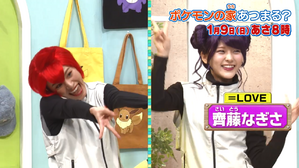 2022-01-09 =LOVE齊藤なぎさちゃんと芸人ガーリィレコ-ド高井とエルフ荒川を迎えてディアルガパルキアゲームを開催! / みんなでポケモンユナイト!
2022-01-09 =LOVE Saitō Nagisa-chan to geinin Girly Record Takai to Elf Arakawa wo mukaete Dialga/Palkia game wo kaisai! / Minna de Pokémon Unite!
2022-01-09 Inviting Nagisa Saito-chan from =LOVE and Comedians Takai from Girly Record and Arakawa from Elf to Play a Dialga/Palkia Game! / Everyone Plays Pokémon Unite Together!
OP/ED List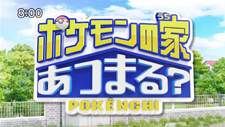 Gathering in the Pokémon House?

No notes available for this episode.
Japanese Music:
Music Statistics:
Number of Assigned Tracks to the Japanese Original: 0
Number of Assigned Tracks to the English Dub: 0