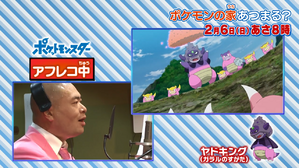 2022-02-06 アニメポケモンのゲスト声優に挑戦のあばれる君を密着レポート! / みんなでアフレコチャレンジのコーナーでは、アニポケの名場面に挑戦!
2022-02-06 Anime Pokémon no guest seiyū ni chōsen no Abareru-kun wo mitchaku report! / Minna de afreco challenge no corner de wa, Anipoké no meibamen ni chōsen!
2022-02-06 A Complete Report on Upcoming Pokémon Anime Guest Voice Actor Abareru-kun! / In the Dubbing Challenge Segment, Everyone Tries Their Hands at Famous Scenes from the Pokémon Anime!
OP/ED List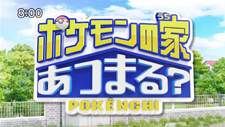 Gathering in the Pokémon House?

No notes available for this episode.
Japanese Music:
Music Statistics:
Number of Assigned Tracks to the Japanese Original: 0
Number of Assigned Tracks to the English Dub: 0