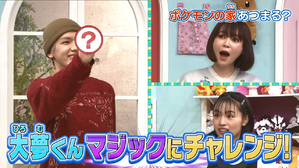 Available On:
Titles
INI高塚大夢くんはアルセウスなマジックを披露! / 何匹のポケモンを捕まえられるかゲームでは、実際にあばれる君としょこたんに冒険に出てもらってゲームの腕前を披露するよ!
INI Takatsuka Hiromu-kun wa Arceus na magic wo hirō! / Nanbiki no Pokémon wo tsukamaerareru ka game de wa, jissai ni Abareru-kun to Shokotan ni bōken ni dete moratte game no udemae wo hirō suru yo!
Hiromu Takatsuka from INI Performs Arceus Magic! / Abareru-kun and Shokotan Play a "How Many Pokémon Can You Catch?" Game Where They Set Off on an Actual Adventure and Show Off Their Gaming Skills!
Airdates
OP/ED List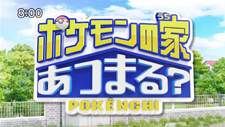 Gathering in the Pokémon House?

No notes available for this episode.
Japanese Music:
Music Statistics:
Number of Assigned Tracks to the Japanese Original: 0
Number of Assigned Tracks to the English Dub: 0