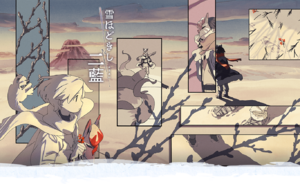 Japanese:
English:
Laura Post
Voice Director
International:
Pokémon: Hisuian Snow tells the story of a boy named Alec and his encounter with a Hisuian Zorua. When he was younger, Alec's father taught him that people and Pokémon cannot live together. But Alec's interactions with the Zorua might offer a different lesson.
Characters


Alec's Father
アキオの父
Akio no Chichi
Akio's Father

Hisuian Zorua (Shiny)
ゾロア (ヒスイのすがた) (色違い)
Zoroa (Hisui no sugata) (Iro chigai)
Zoroa (Hisui Form) (Alternate-colored)
Wild Pokémon
No notes available for this episode.
Japanese Music:
Music Statistics:
Number of Assigned Tracks to the Japanese Original: 0
Number of Assigned Tracks to the English Dub: 0