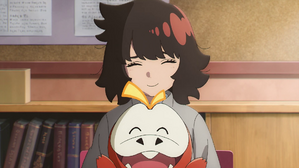 Titles
Breathe Out
息をふく
Breathing Out
Ausatmen
Expirer
Espira
Espira
Exhala
吹息
숨결을 불어넣다
Expire
Mengembuskan Napas
Airdates
Wit Studio
---
Screenplay
脚本
Episode Director
演出
Art Director
美術監督
Just before the arrival of a certain transfer student, three students at an academy in Paldea are tasked with making a video showcasing their school.

The reserved Ohara is a skilled flutist, but she's feeling under pressure due to an upcoming concert. In addition, she's doing her best to help with the video, but it just isn't going right.

Fed up with it all, she runs away to Glaseado Mountain, under the pretext of doing the academy's Treasure Hunt activity.
No notes available for this episode.
A Cetitan was featured in this episode and one was distributed to players of Pokémon Scarlet and Pokémon Violet from September 6th, 2023 to August 31st, 2024. The password was:
L1KEAFLUTE
Add some heft to your Pokémon Scarlet or Pokémon Violet team with a special Cetitan! This Pokémon will join you at Lv. 50 and has the Ferocious Mark, imparting with the title "Cetitan the Rampaging." Enter the password and have a whale of a time together with this powerful Terra Whale Pokémon!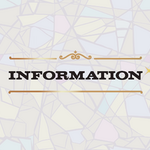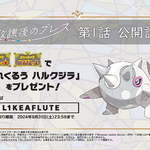 Japanese Music:
Music Statistics:
Number of Assigned Tracks to the Japanese Original: 0
Number of Assigned Tracks to the English Dub: 0