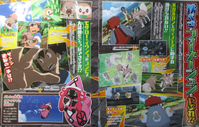 Smash the iron defense formation!!
Lychee's two Pokémon attack in perfect sync with each other!!

There's no escape if you get surrounded by Lugarugan and Dainose!!
In Lychee's formation, the two Pokémon play the role as attacker and supporter! Satoshi quickly gets in serious trouble!!
*Dainose's "Stone Edge" blocks him off in every direction!

Lugarugan is the attacker!
>It makes use of its speed to make quick movements, dealing damage with "Rock Slide"!

Dainose backs it up!
The "Magnet Bomb" fired by its Mini-Noses hunt down Satoshi with more and more intensity!

Can Satoshi pass the Grand Trial using the Mokuroh/Iwanko duo?!
Satoshi, on the other hand, instructs Mokuroh to grab Iwanko and rise into the sky. Can he break through the encirclement and manage to counterattack?!

Mokuroh: Mokuroh can fly, so it's the key to this match! "Leafage" is also super effective against Rock types!
Iwanko: Iwanko fights with "Rock Throw". For some reason it's really restless, but...

How does Satoshi turn the situation around?!
>Whose Z-Move will he use, Mokuroh's or Iwanko's? And will he win in the end?!

Kapu-Tetefu watches over the battle... what is its end goal?
It appears the guardian deity of Akala Island, Kapu-Tetefu, watches over Satoshi as well. Keep watching attentively to find out if they ever meet!