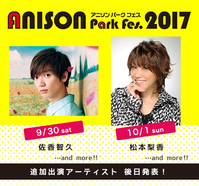 Two days when these artists gather to sing the theme songs of the popular TV anime!

Schedule: September 30 (Sat), October 1 (Sunday)
Time: 11:30
Price: Free viewing - Outdoor stage

日程:9月30日(土)、10月1日(日)
時間:11時30分

●9月30日(土)
出演:佐香智久(代表曲:アニメ「ポケットモンスター XY」オープニングテーマ)、ほか
Saturday September 30th, 2017
Performer: Tomohisa Sako - Pocket Monsters XY Opening Theme

●10月1日(日)
出演:松本梨香(代表曲:アニメ「ポケットモンスター」オープニングテーマ)、ほか
Sunday, October 1st, 2017
Performer: Rica Matsumoto - Pocket Monsters Opening Theme

※Rain or shine. However, we may partially change or cancel the show if there is stormy weather.
※ Please refrain from acts that hinder the visibility of other viewers, such as the use of an umbrella during the performance.
* Cast performers may be changed due to circumstances.
※ Please do not photograph, shoot video or record the performance stage during the event.