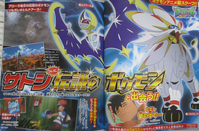 Satoshi finally meets the legendary Pokémon!!
Legendary Pokémon appear before Satoshi! We have a scoop on new, super startling developments!!

...but it's just in a dream...
That's unfortunate! But at least he's lucky to see what they look like!

The legendary Pokémon of the Alola region: Solgaleo and Lunala!
The dream takes place at the Altar of the Sunne, which is located on Poni Island, an island Satoshi has never been to. Is this place related to the legendary Pokémon...?

The dawn of a mysterious morning and a startling encounter!
Further mysteries await Satoshi that day! He discovers a mysterious Pokémon in the tall grass!

He's made the amazing discovery of a new species of Pokémon?!
Incredibly, this is a completely unknown Pokémon there's not even data on in the Rotom Zukan!