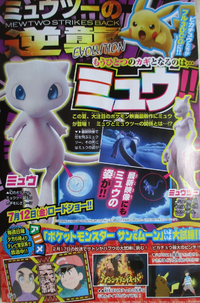 Corocoro March 2019


Mewtwo Strikes Back Evolution
Pikachu and the others have been turned into full 3DCG!!

Another major plotpoint in the movie is...
MEW!!
Mew appears in this summer's new Pokémon movie, the one that currently has everyone's attention! What is the connection between Mewtwo and Mew...?!

Mewtwo was seen flying through the sky in the teaser trailer. And Mew could be seen in front of him!!

Mew appeared in the teaser trailer as well!!

Mew: A mythical Pokémon. It's a crucial key component in Mewtwo's birth...?!
Mewtwo: It's said to have almost the exact same genetic makeup as Mew.

Premieres Friday July 12th!!

--

Anime: At long last, we get a Grand Trial in "Pocket Monsters Sun & Moon"!!
(The anime is currently airing every Sunday at 6pm on the TV Tokyo network!!)

In the episode airing February 17th, Satoshi attempts Hapu'u's Grand Trial! Pikachu is in bigger trouble than ever before!!

*How will Satoshi and Pikachu fight against Hapu'u, who they've already lost to once before?!
*Their opponent is a Banbadoro, who's a Ground type: Pikachu's weakness!