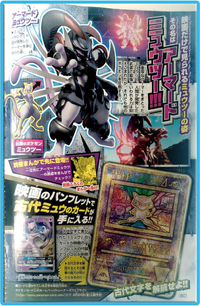 The Mewtwo form that can only be seen in the movie: Its name is Armored Mewtwo!!!

Mewtwo is wearing a majestic armor. Even though this manmade armament suppresses what people call the ultimate power, Mewtwo still overwhelms all other Pokémon!!

Armored Mewtwo: Mewtwo's form while it's wearing armor developed by the Rocket Gang.

It appears early in the manga booklet!
Check the manga to get a preview of Armored Mewtwo's gallant figure!!
Hurry straight to the manga in the supplimentary booklet!

The Ancient Mew card is included with the movie pamphlet!!
Decipher the ancient letters!!
It's been confirmed that this Mew card that has its text written in ancient letters will be included with the movie's pamphlet as a free gift.
Once you decipher the ancient letters on the card, you'll realize you incredibly powerful it is!
Try comparing it with normal Pokémon Cards.

The way to decipher the letters on the card is scheduled to be presented on the Trainers' Website on the official Pokémon Card Homepage (http://www.pokemon-card.com/) Friday May 24th!