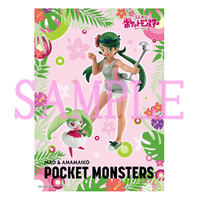 As a Premium Bandai exclusive bonus, an "original A3 poster" featuring product photos will be included!

[Lottery Sale] G.E.M. Series Pocket Monsters Mao & Amamaiko
【抽選販売】 G.E.M.シリーズ ポケットモンスター マオ&アママイコ

Sales Price: Price: 8,030 yen (tax included)
Delivery date: Scheduled to be shipped in March 2021

This product will be sold by lottery.
Application period: Friday, March 05, 2021, 13:00 - Thursday, March 11, 2021, 23:00
Winners will be announced in March 2021.