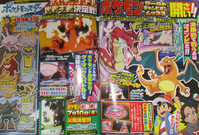 WE'RE GETTING THE MATCH THAT DECIDES THE BEST POkÉMON TRAINER IN THE WORLD: THE POKÉMON WORLD CHAMPIONSHIPS!!
The battle tournament where Pokémon and Trainers from all over the world will battle to determine who is the greatest of them all is going to be held in the Galar region! How will the matches go?!

THESE TWO DUOS ARE THE ONES THAT WILL BE IN THE FINALS!!
Wataru and Dande are powerful Trainers representing different regions! They're both taking on the finals alongside their well trained partner!

KANTO LEAGUE ELITE FOUR MEMBER; WATARU & THE RED GYARADOS: The Trainer representing the Kanto region.
THE UNDEFEATED CHAMPION OF THE GALAR REGION; DANDE & LIZARDON: The super amazing Trainer said to have never lost a battle in the Galar region!

This is the world tournament to determine who is the greatest at Pokémon battling!!
The Pokémon World Championships is a tournament to determine the best Trainer in the world! It transcends regions and is open to all!
*The stadium is packed! This is incredibly huge tournament that attracts the attention of the entire world!

The Pokémon grow gigantic in the middle of the battle!! Keep an eye out for Kyodaimaxing as well!!
Kyodaimax is a phenomenon that only occurs in the Galar region, and which causes Pokémon to grow gigantic! It sure packs a punch!
*Dande's Lizardon's entire body gets enveloped in flames! It's extremely powerful!!
*Believe it or not, the monster ball grows gigantic as well! This is a battle on a massive scale: Look forward to it!!

THE GREATEST OF THEM ALL WILL BE DETERMINED IN THE EPISODE AIRING FEBRUARY 2ND!! DON'T MISS IT!!!

GO THIS MONTH: Check out the Pokémon Go will meet in February!!
MAYULD: A chrysalis Pokémon completely wrapped in thread. Expect a further evolution!
DEATHKARN: Rumors say it swallows humans and turns them into mummies...!
HIHIDARUMA: It can turn the flames blazing at 1400 degrees inside its body into power.
MEGUROCO: A Pokémon that buries itself into the sand and moves around as if its swimming.
GOLOOG: It's supposedly a Pokémon created by the ancients. We'd like to research them in detail!

Massive scoop: The new Pokémon movie is going to premiere Friday July 10th!!!
Who is this mysterious person looking down at Satoshi...?! We'll release new info as soon as we have some...!