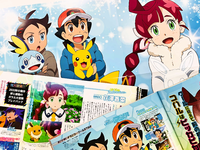 Animedia January 2021 (アニメディア2021年1月号)
https://twitter.com/iid_animedia/status/1336583211787276290
The January issue of Animedia comes with a B3 poster for the TV anime "Pocket Monsters! Satoshi & Go & Koharu on a snowy day, and Eievui and others ♡ In the interview, Kana Hanazawa, who played the role of Koharu, talks about a lot of things! Don't miss the famous scenes from "Sword & Shield"!