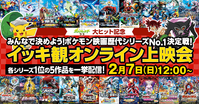 https://www.pokemon-movie.jp/tohyo/
https://twitter.com/pokemon_movie/status/1354006938330099712

To celebrate that the Coco movie was a big hit, the Number One Pokémon Movie Contest vote was held on the official Pocket Monsters movie website from January 26th, 2021 until February 4th, 2021.

Let's vote for the No.1 most popular movie of the series. The first place winner of each series will be broadcast on the Toho MOVIE Channel starting at 12:00 on Sunday, February 7th, 2021!