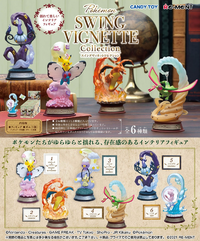 Re-Ment - Pocket Monsters SWING VIGNETTE Collection
https://www.re-ment.co.jp/product/r20607
https://www.pokemon.co.jp/goods/2021/04/210416_go02.html

Price: 990 yen (900 yen without tax)
Place of sale: Toy and general merchandise stores, etc.
Release date: April 19, 2021
Product: Figure + Gum (1 piece)
Package: Box: 130 (H) x 70 (W) x 70 (D) mm

The Pokémon figures are stylish and perfect for interior decoration. They can be hung on the hooked base to recreate the look of Pokémon flying or floating in the sky!