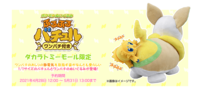 Pokémon Plushie Shaking Bachuru with Wanpachi (ポケモンぬいぐるみ ぶるぶるバチュル ワンパチ付き)
https://takaratomymall.jp/shop/g/g4904810186618/
https://www.takaratomy.co.jp/products/pokemon/buruburu_bachuru/

Bachuru and Wanpachi are now available as 1:1 plush toys with a shaking gimmick, exclusively at TOMY Mall! Bachuru's Pokémon Zukan entry says, "Bachuru can be found clinging to other Pokémon. It's soaking up static electricity because it can't produce a charge on its own." and this product reproduces that.

It's a very adorable plushie that when you pull on Bachuru, it shakes its way to Wampachi's hips.
The size of the product is approximately 30cm in height, 19cm in width, and 40cm in depth, making it 1:1 size.

Price: 6,000 yen (tax included)
Release Date: Late September 2021
Item Number: 4904810186618
Manufacturer: Tomy
Brand: Pocket Monsters
Pre-order period: April 28th, 2021 at 12:00 until May 31st, 2021 at 13:00
Sales after the order period has ended is currently undecided.