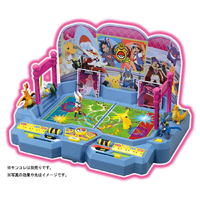 Pocket Monsters Live Sound Stadium Pokémon World Championship
ポケットモンスター 実況サウンドスタジアム ポケモンワールドチャンピオンシップス
https://takaratomymall.jp/shop/g/g4904810177609/
https://www.takaratomy.co.jp/products/pokemon/sound_stadium_vs/index.html

Price: 6,160 yen (tax included)
Release Date: June 19, 2021
Battery: AAA alkaline dry cell battery x 2 (sold separately)
Item Number: 4904810177609
Manufacturer: TOMY
Brand: Pocket Monsters
Package size: W400 x H350 x D120mm

Five major gimmicks make it super hot! There are many gimmicks that make battle play more exciting.

① Unleash! Battle Command!
When you press the button, you'll hear the sounds of Mega Evolvution, Z-Move, Gigantamax, and Dynamax!
"It's a powerful Dynamax battle!" "It's a Mega Evolution, an evolution beyond evolution!"
Let's win the Pokémon World Championships with your Moncolle!

② In addition to the above, you can also hear powerful "Thump" and "Smack" battle sounds! When you impact the field (floor), the noise of the attack will sound!

③ Battle BGM sounds!
Press the button to hear the familiar battle background music from the anime!

④ Live Voices make the battles get more exciting!
"You hit the target!" "This one's excellent!"
If you press the button during the battle, live commentary will sound! You can create your own original battles!

⑤ HP Gauge
Move the HP gauge to determine the outcome of the battle! When either gauge reaches zero, the battle is over! "The battle is over! The winner is red corner!"