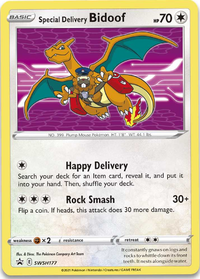 Pokémon TCG: Special Delivery Bidoof Promo Card
https://www.pokemoncenter.com/product/158-14205/

Special Delivery Bidoof Brings Pokémon TCG Surprises!

Who's that making the delivery rounds? Why, it's Special Delivery Bidoof! With its Happy Delivery attack that lets you find any Item card from your deck, plus the tried-and-true Rock Smash attack, it's ready to deliver delightful surprises to your collection or Pokémon TCG games.

Note: Each card may have unique variations in the foil pattern. Circular spots or other patterns may appear in different places from card to card. This is normal and not a printing error.

https://support.pokemoncenter.com/hc/en-us/articles/4405489036052-Special-Delivery-Bidoof-Promotion-FAQ

When will I receive my promo code?
If you are eligible for a promo code, please be patient as the codes are being sent out in waves.
Will there be enough Special Delivery Bidoof cards?

A Special Delivery Bidoof card has been reserved for each code distributed, so you do not need to redeem the code immediately. Note that the code will expire on December 31, 2021, at 11:59 p.m. PDT.

Am I eligible for a promo code?
Only customers who were signed up to receive our newsletter prior to July 1st, 2021 received an invitation to express their interest in the Special Delivery Bidoof Promo Card.

If you expressed interest by clicking the link in the promotional email, you may have seen a message stating "Thank you, Trainer! We've made note of your interest. Good luck with all your battles and trades!" this means that you were registered for a code.