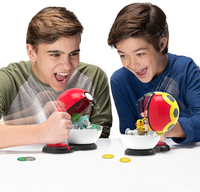 Pokémon Surprise Attack Game - Pikachu #2 & Bulbasaur #3, 2 Surprise Attack Ball, 6 Attack Disks

The Pokémon Surprise Attack Game is easy to pick up and play! Just choose the Pokémon you want to battle with, choose an attack disk, load both into the Surprise Attack Poké Ball, and SLAM down on the button to spin the Poké Ball and reveal your Pokémon and its attack! Play solo with Training rules or challenge your friends to battles with Junior and Master trainer rules! Gotta Catch 'Em All! An Officially licensed Pokémon product from Jazwares! Ages 4+

Your Next Pokémon Adventure
Excited for the next adventure? This 2 Pack features the Electric-type Pikachu and Grass- and Poison-type, Bulbasaur.