A new Japanese Pokémon Trading Card set has been revealed called
Shiny Collection (シャイニーコレクション)
. The set will be released in Japan on February 1st, 2013. Each booster pack will only contain 4 holographic cards. Retailers have announced pre-orders for a box that contain 15 booster packs and the box will sell for 2,835 yen. The JAN number for the box is 4521329130521. Individual booster packs will sell for 189yen each.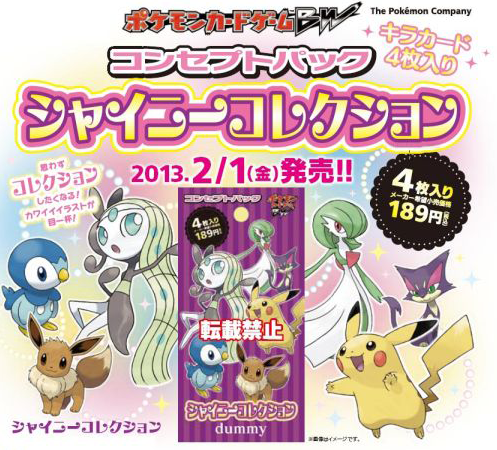 Source:
http://item.rakuten.co.jp/gamefreak-shop/4521329130521/
Battle Strength Decks Black Kyurem EX and White Kyurem EX
The latest Battle Strength decks were released in Japan on October 19th, 2012. The decks each feature Black Kyurem EX and White Kyurem EX. Both decks contain 18 unique cards as part of their decks. Scans and transcriptions of those cards have now been added to our
TCG dex
. Click on either logo to go to the set lists.