The official Japanese Pokémon website has revealed that the
Pokémon Centers in Japan
will each offer a special event Pokémon during the summer of 2013. A battle strategy card will also be distributed with each Pokémon. One of the seven Pokémon will also be distributed randomly from July 3rd, 2013 until July 7th, 2013.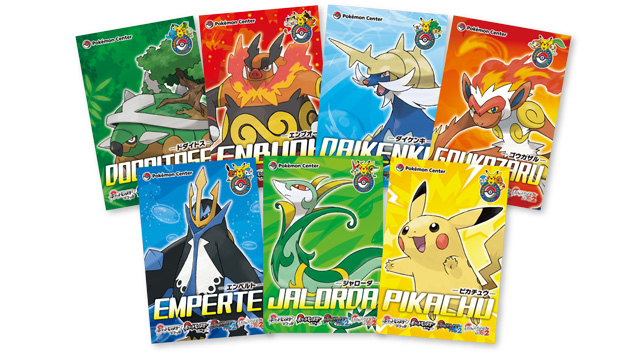 Pokémon Center Sapporo
Emperte (エンペルト)
OT: PCS
ID: 05153
Ability: Torrent
Nature: Random
Gender: Male
Moves:
Hydro Pump
Ice Beam
Aqua Jet
Grass Knot
Item: Air Balloon
Dates: 2013-05-15 to 2013-05-21

Pokémon Center Tohoku
Jalorda (ジャローダ)
OT: PCTH
ID: 05223
Item: Leftovers
Dates: 2013-05-22 to 2013-05-28

Pokémon Center Tokyo
Pikachu (ピカチュウ)
OT: PCT
ID: 05293
Item: Light Ball
Dates: 2013-05-29 to 2013-06-04

Pokémon Center Yokohama
Dodaitose (ドダイトス)
OT: PCY
ID: 06053
Item: Choice Band
Dates: 2013-06-05 to 2013-06-11

Pokémon Center Nagoya
Goukazaru (ゴウカザル)
OT: PCN
ID: 06123
Item: Focus Sash
Dates: 2013-06-12 to 2013-06-18

Pokémon Center Osaka
Enbuoh (エンブオー)
OT: PCO
ID: 06193
Item: Choice Scarf
Dates: 2013-06-19 to 2013-06-25

Pokémon Center Fukuoka
Daikenki (ダイケンキ)
OT: PCF
ID: 06263
Item: Expert Belt
Dates: 2013-06-26 to 2013-07-02
Source:
http://www.pokemon.co.jp/ex/pokecen_15th/
Pokémon Center Hot Information 15h Anniversary Vol 1 (ポケモンセンターホットインフォメーション 15周年 vol,1)
The official Japanese Pokémon YouTube channel posted an informational video to promote the event distributions at the Pokémon Centers.
Source:
http://www.youtube.com/watch?v=btOj-I86ZEk