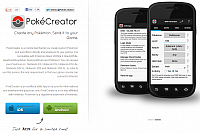 Nintendo has posted a press release indicating that cell phone apps like PokéCreator are becoming more prevalent and players of the Pokémon games should not use them. Nintendo also made it very clear that players who are caught using hacked Pokémon in official tournaments will be disqualified and banned from participation in future tournaments. It's unclear why Nintendo has finally decided to make a statement regarding save hacking as PokeSav and fake GTS servers have been around for years. The Pokémon Japanese VGC 2013 tournament was last week though and may have been the reason for the press release.
PokéCreator
Create any Pokémon. Send it to your Game.
PokéCreator is a mobile App that let you create custom Pokémon and send them directly and wirelessly to your games. It is compatible with Pokémon Black 2/White 2, Black/White, HeartGold/SoulSilver, Diamond/Pearl and Platinium. You can receive your Pokémon on : Nintendo DS, Nintendo DSi, Nintendo DS Lite, Nintendo DSi XL, Nintendo 3DS and Nintendo 3DS XL. in order to use this service, the only requirement, is that your game console can connect to Internet.
PokéCreator is an unofficial utility App to be used for informational and entertainment purposes only. PokéCreator is in no way affiliated with Nintendo. Pokémon is a registered trademark of Nintendo.
『ポケットモンスター』シリーズをお楽しみ頂いている皆さまへお知らせ
いつも『ポケットモンスター』シリーズをお楽しみいただき、ありがとうございます。
現在、『ポケットモンスター』シリーズについて、株式会社ポケモン・任天堂株式会社として許諾していないスマートフォン向けアプリケーションソフト(アプリ)が販売されております。この無許諾のアプリは、不正なポケモンのデータを作り、非公式のサーバーを用いて、不正なポケモンをゲームソフト内に送り込む機能を有しております。
不正なポケモンがゲームソフトに送り込まれると、ゲームが正常に遊べなくなったり、場合によってはゲームそのものが遊べなくなったりする場合もございます。
また、『ポケットモンスター』シリーズは他のプレイヤーと通信機能を使って対戦・交換等ができますが、不正なポケモンを用いて通信を行った場合、通信相手のかたにも正常にゲームがプレイできなくなるなどの悪影響を及ぼし、相手に迷惑をかける場合もございます。
通常プレイ以外でのゲームデータ改ざん等の行為によって引き起こされた一切の不具合、不都合などにつきましては、株式会社ポケモン・任天堂株式会社では元の状態に戻すなどの対応はいたしかねますので、ご了承ください。
なお、株式会社ポケモンが開催しているゲームの大会では、参加者が通常プレイ以外の方法で手に入れたポケモンを使用した場合、発覚した時点で失格とし、今後開催される全ての大会への参加もお断りさせていただきます。
プレイヤーの皆様の育てた大切なポケモン、セーブデータを守るためにも、取扱説明書に従った正しい遊び方で『ポケットモンスター』シリーズをお楽しみいただきますよう、よろしくお願いいたします。
以上
Sources:
http://www.pokecreator.com
,
and
http://www.pokemon.co.jp/info/2013/06/130628_at01.html