The
2014 International Challenge May (2014 インターナショナルチャレンジ May)
will take place online from Friday, May 16th, 2014 through Sunday, May 18th, 2014. Below are the details of the tournament.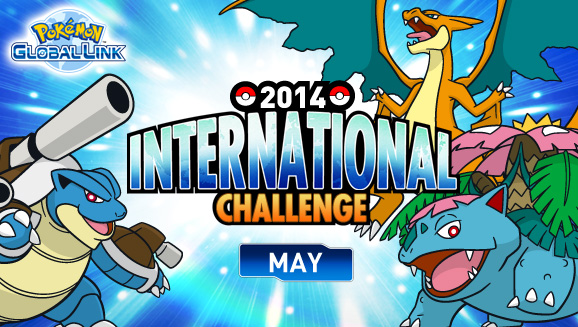 Region: International
Registration Period: Thursday, May 8, 2014 at 00:00:00 through Thursday, May 15, 2014 at 23:59:00 UTC
Tournament Period: Friday, May 16, 2014 at 00:00:00 through Sunday, May 18, 2014 at 23:59:00 UTC
Ranking Results Announcement:
Max number of participants: 50 000
Player divisions: Junior/Senior Division: Born 1999 or later.
Masters Division: Born 1998 or earlier.
Battle Type: Double Battle
Pokémon Restrictions: Players may use only Pokémon found in the Kalos Pokédexes of Pokémon X or Pokémon Y. Players cannot use Pokémon that were brought to Pokémon X or Pokémon Y using the Nintendo 3DS downloadable software Poké Transporter.
Banned Pokémon: All Pokémon not found in the Central Kalos, Coastal Kalos or Mountain Kalos Pokédexes and Mewtwo, Xerneas, Yveltal and Zygarde.
Entry Gift: 1000 PokéMiles Points (Japan), Enigma Berry (North America, Europe and Australasia)
Same format as the Japan Cup 2014 (ジャパンカップ2014). The competition will use Double Battle format and players can register 4–6 of their level 1–100 Pokémon to their Battle Box. Pokémon are automatically be lowered to Level 50 during battles and the nicknames players have given to their Pokémon will not be displayed. A 15-minute time limit for each match will automatically is enforced in-game, beginning at the start of each battle. If the outcome has not been determined when the time limit expires, the game will automatically apply tiebreakers to determine a winner. At the beginning of each battle, players have 90 seconds to select 4 Pokémon to battle with. At the beginning of each turn, players have 45 seconds to select a move or change Pokémon in battle. If a player has not made his or her selections at the end of this period, the game will automatically make selections for the player. Junior Division players will be limited to playing between the hours of 6 a.m. to 11 p.m. (local time).
Source:
http://www.pokemon.com/us/pgl/2014-international-challenge-may/