The English dubbed version of the
Pokémon Origins
special was released on iTunes on May 28th, 2014 and is available for purchase in North America and Europe. The four episodes can be purchased separately for $2.99/£2.49 per episode in High Definition or $1.99/£1.89 in Standard Definition. All four episodes can be purchased for $11.96/£9.96 in HD or $7.96/£7.56 in SD.

A
Bluray is available in Japan
and
DVD was released in Australia
but no physical media releases of the special is currently available in North America and Europe making iTunes the only place for fans to buy these episodes. The episodes can also be
viewed for free on Hulu in the United States
.
Pokémon Origins iTunes Description
It's back to the beginning with Pokémon Origins! This animated series tells the story of the very first Pokémon video games, Pokémon Red Version and Pokémon Blue Version. A new Pokémon Trainer named Red and his arrogant rival, Blue, set out from Professor Oak's laboratory on a journey to complete the Pokédex. At first, Red doesn't really know what he's doing and finds it difficult to connect with his Charmander when they battle. But soon he meets Gym Leader Brock, who sets him on the path to win eight badges and challenge the Pokémon League!
Peacsmile! (ピースマイル!)
The second ending theme for Pocket Monsters XY is available for purchase on iTunes and Amazon in Japan.
Peacsmile! (ピースマイル!)
is performed by J☆Dee'Z and the track is available for 250yen.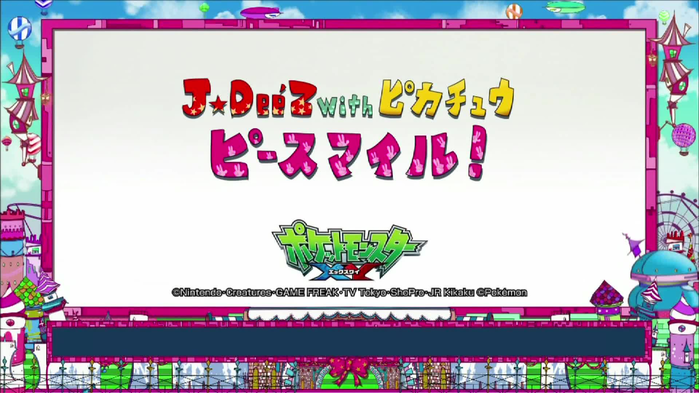 A music video of the song featuring J☆Dee'Z and Pikachu was also
posted on YouTube by Sony Music Records
but is region restricted to Japan.
Sources:
https://itunes.apple.com/us/tv-season/pokemon-origins/id862658212
,
Peacsmile Amazon JPN
, and
https://itunes.apple.com/jp/album/id878131471