The official Japanese Pokémon website has revealed the pre-order gifts for the Japanese versions
Pokémon Omega Ruby and Pokémon Alpha Sapphire
. Those that pre-order Pokémon Alpha Sapphire from will receive a Primal Kyogre mini figurine. Those that pre-order Pokémon Omega Ruby will receive a Primal Groudon mini figurine. The figures are approximately 5cm in size and are
different from the ones being distributed in the UK
. Pre-orders begin on September 20th, 2014 at participating stores. The trailer also confirmed that the Dumbel event distribution will take place from November 21st, 2014 until January 14th, 2015.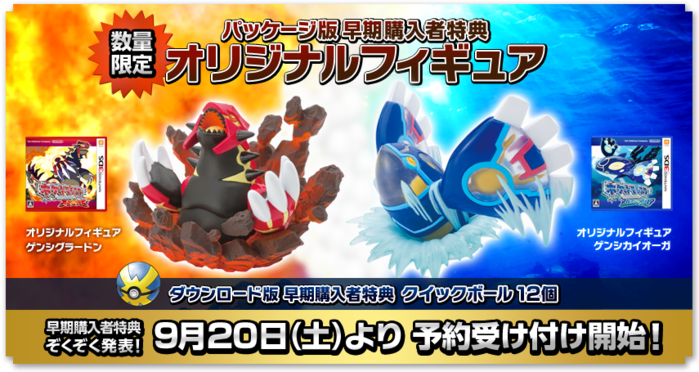 Pre-Order Trailer
12 Quick Ball Distribution
Those that download the Japanese eShop version of
Pokémon Omega Ruby and Pokémon Alpha Sapphire
will be able to receive 12 Quick Balls (クイックボール) as a present between November 21st, 2014 and November 30th, 2014.
Source:
http://www.pokemon.co.jp/ex/oras/campaign/20140904_01.html