Japanese retailers have revealed the 5th XY Pokémon Card Game Expansion. Two sets will be released and they are called:
Gaia Volcano (ガイアボルケーノ)
and
Tidal Storm (タイダルストーム)
. The booster packs will cost 150yen each plus tax for 5 cards and feature Primal Groudon and Primal Kyogre on the covers. The expansion will feature over 140 cards and will be released on December 13th, 2014 in Japan.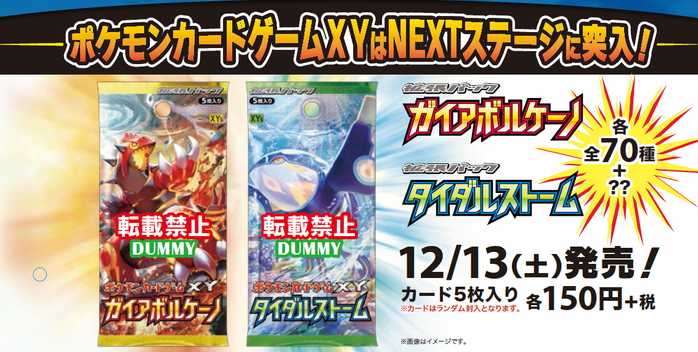 A
Special Pack: Silver M Metagross-EX (スペシャルパック 銀のMメタグロス)
blister pack will also be released on December 13th, 2014. The special pack includes: 3 Gaia Volcano Booster Packs, 3 Tidal Storm Booster Packs and also a Shiny Metagross EX card, a Shiny M Metagross EX card and an Achamo card. The Special Pack costs 1,000yen plus tax.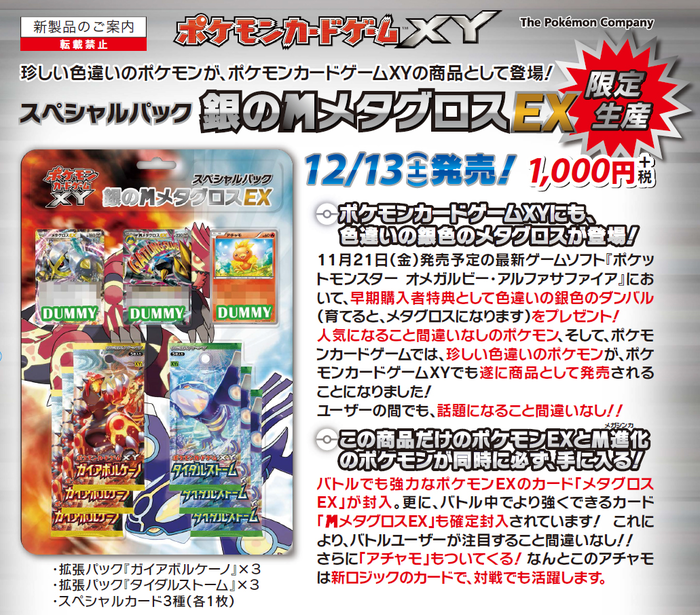 An Energy Box which includes 45 Energy cards (5 energy cards per type) and 5 Trainer cards for 500yen plus tax will also be for sale. A deck box and a protective card sleeve pack with Primal Groudon and Primal Kyogre artwork will also be available for 380yen plus tax each.