The official Pokémon movie blog has updated. Translations of the new entry follows:
Event Report #6: A Report from the Pre-Premiere of Pokémon the movie XY: "The Arcdjinni of Rings - Hoopa" Saturday July 5th
Summer means Pokémon! The Pokémon Summer is finally here!
Only two more weeks remain until the premiere of "The Archdjinni of Rings: Hoopa"!!
To celebrate the completion of the movie, we held a pre-premiere screening (in cooperation with Shogakukan)!
Here's a report with details on how it turned out!
About 1600 children were gathered at the venue, having won invitations via lottery!
First off, Hoopa and Pikachu appeared!
Next came Director Yuyama and Satoshi's voice actor Rica Matsumoto, followed by the entire lineup of extravagant guest voice actors!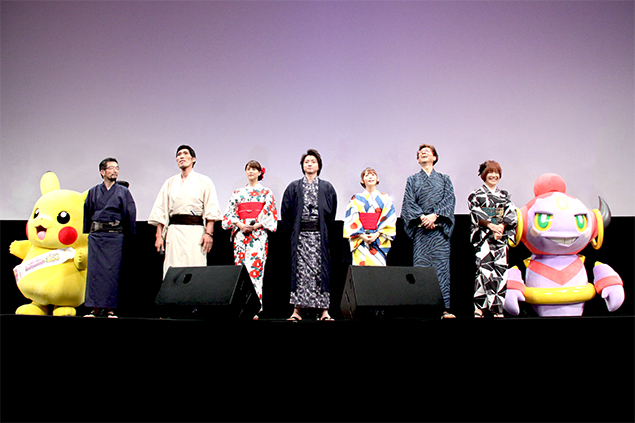 They were all dressed in beautiful yukata, one reason being that Tanabata is in two days!
They all looked really fancy!
It was then time for their individual greetings!
First up was Director Kunihiko Yuyama!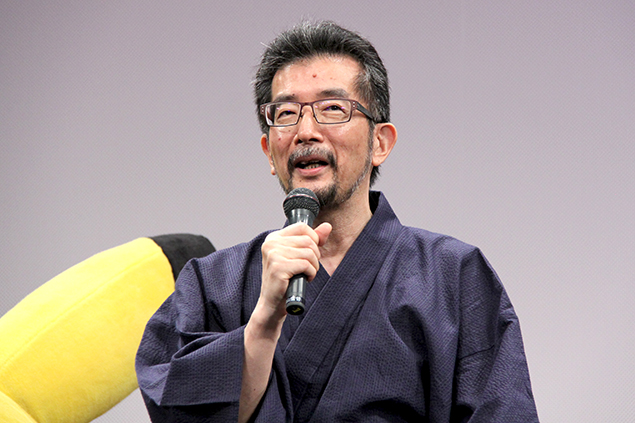 I am very excited about us showing the movie to the public for the first time ever today.
Because this is the first time we have an audience watch the movie, I think of this as the day the movie is truly completed.
Please enjoy it.
He was then asked what he thought was the highlight of the movie...
Both for the short and the feature film, the accumulation of experience we got from the last 18 years has helped us create something new.
In the short, the Pokémon create a musical performance using nothing but their voices, something that's being done for the first time through all the years we've been developing Pokémon voice acting.

While in the feature film, legendary Pokémon from earlier movies appear all together at once.
I've been doing these movies for 18 years now, and while I can tell from the viewers' ages they have different opinions on which Pokémon they have a strong attachment to, I hope you will all have a good time discussing which Pokémon you prefer with each other.
Next up was Rica Matsumoto, voice of Satoshi!
I got a Pokémon!!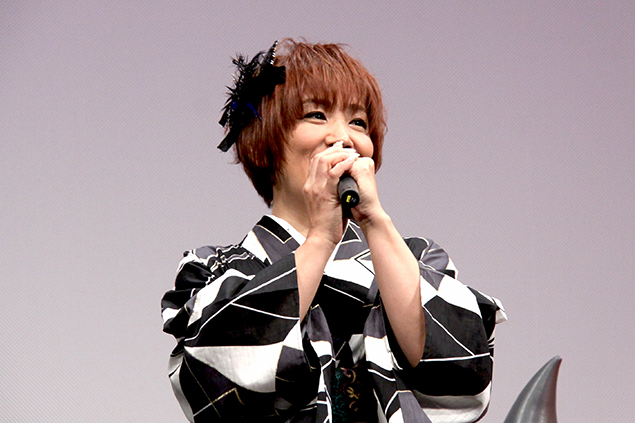 I'm grateful to be allowed to do this greeting this year as well.
Ever since the first movie, "Mewtwo Strikes Back", Satoshi has continued his journey to become a Pokémon Master, and even though 18 years have passed in the blink of an eye since then, he still hasn't given up on those feelings, but keeps doing his best with undying optimism and positivity!
Please look forward to the role he'll play in this year's movie as well!
Next up was Tatsuya Fujiwara, the voice of Barza, the young man who grew up together with Hoopa and who holds the key to the movie's story!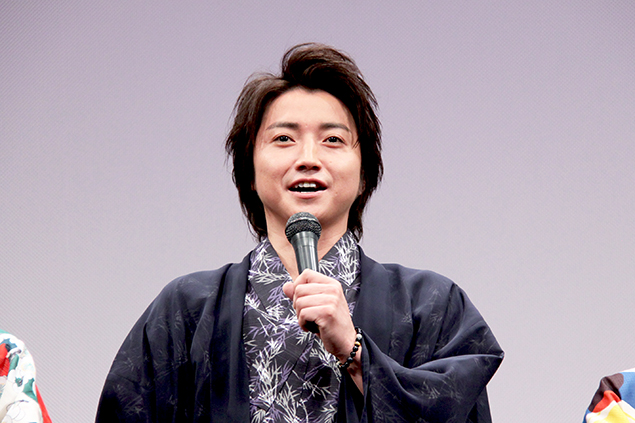 I was really surprised when I heard these movies had been running or an entire 18 years. It's almost unbelievable I get to play in movies so beloved by children that they can go on for so long, and I had a lot of fun with my role.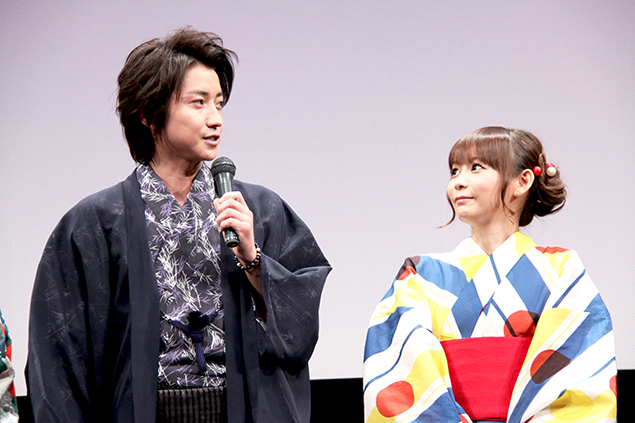 Also, since Shokotan and I play brother and sister, in the finished movie there are places where I speak my line and Nakagawa's voice comes in as well. So I played these parts as if we were having an actual, normal conversation.
Next up, for his 18th consecutive annual role! Koichi Yamadera, voice of Hoopa (Unleashed Form) = Super Hoopa!
Yama-chan, Aaaappeeaar!!
And when you think of Yama-chan, here's his famous greeting...
HooPa~~~!!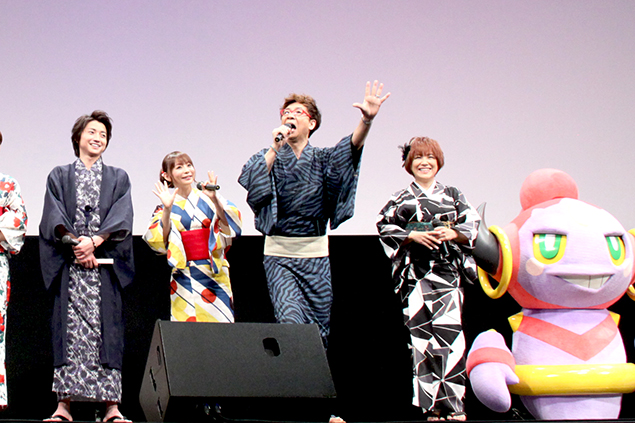 Oops, got that wrong. Once again: OHA!
I've been in these movies for 18 years now, but I've played different roles every time. This year I'm Hoopa (Unleashed Form).
When it comes to Hoopa, you usually think of the small cute one (Confined Form), but I want you all to root for the big Hoopa I play as well.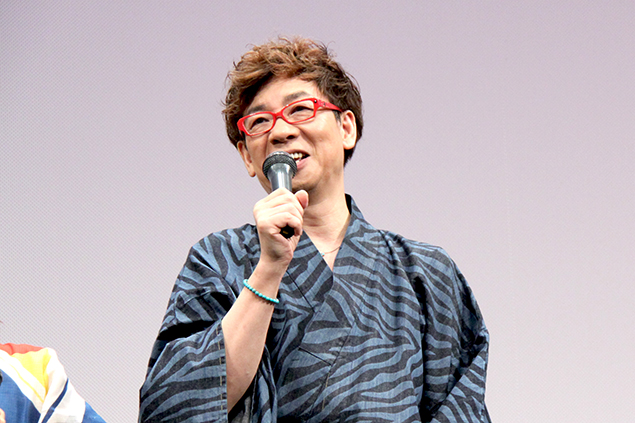 Hoopa goes "Appear!" all the time, so this summer I want you all to imitate it and run around saying "Appear!" all over the place!
That way you'll create an "Appear!" boom! I think it'd be really great if you managed to keep it going until the end of the year and we'd win the Buzzword-of-the-year award!
Next, for her 9th consecutive annual role! Shoko Nakagawa, voice of Mary!
Pokéssu!!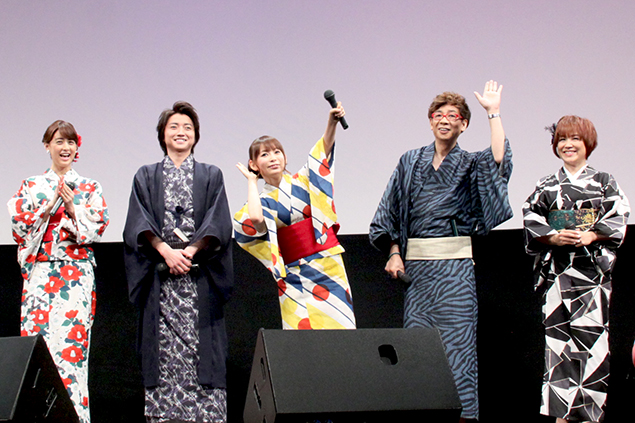 Shokotan appears with her famous greeting from Pokémon Get TV!
The Pokémon movies have 18 years of history to them now! The games have been out for 19 years! And I just reached level 30!
I have become an adult through Pokémon!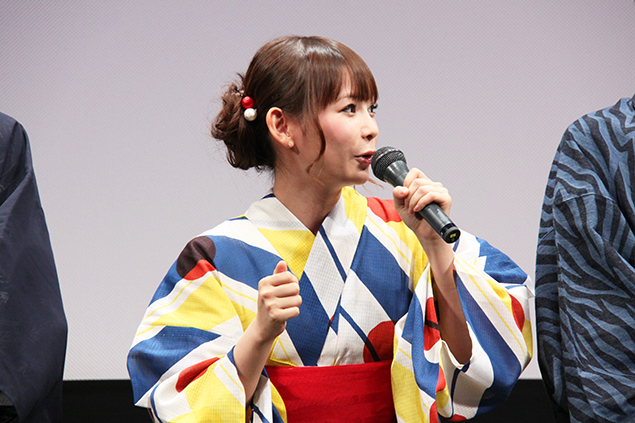 This year's movie is something else, though!
A rush of legends, legends and legends that leaves even Hollywood astounded!
This year's movie Mega Mega Mega Mega Evolved to an absolutely astounding level, creating a truly historical, cutting-edge moment for the world, humanity, the universe and the Pokémon anime before our very eyes, and when I first watched it in the preview room, I truly felt that I was alive!!
You will all be able to live and witness a Pokémon summer and a Japanese summer this year as well! It's amazing!
In this year's movie, Pikachu and Hoopa do their best to keep on going; When you're an adult, you sometimes hit a brick wall and wonder if you should keep trucking on, and that's where Pokémon once again has a lot to teach you.
Even if you're an adult, I want you to have fun watching the movie, constantly discovering how delightful Pokémon is and wondering about what kind of fantastic secrets it hides.
Following Shokotan's proclamation of love for Pokémon, judoka Shinichi Shinohara, the voice of the Hippopotas playing an important role in the story, stepped forward.
You all know what to do, right? Do your customary "Hippossu!" greeting!!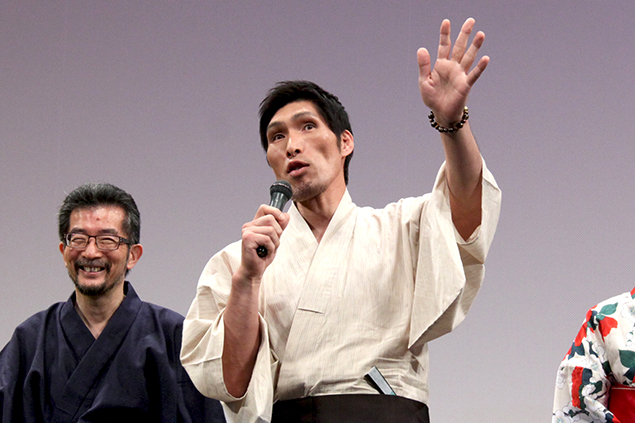 "Hippossu!!"
I'll count on you to popularize that "Hippossu" saying!
This is your first time voice acting, but you're providing a voice for a Pokémon, was that so?
My first reaction was "I'm a Pokémon!?", but well, I already knew I had a talent for voice acting, so I had no problems with that... Nope!
You asked if you could get a different role, a cooler role, is that right!?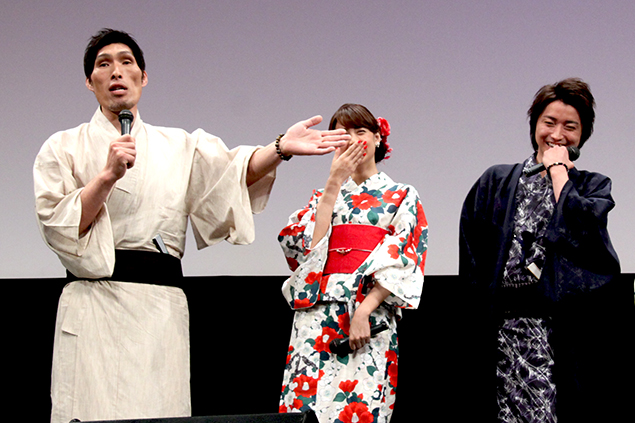 Actually, I was originally going to play Barza, Fujiwara-kun's role. And Fujiwara-kun was supposed to play Hippopotas... but then they suddenly switched us around!
So he claims..
Shinohara-san is always trying to steal my role!
, Fujiwara said.
We asked the director if Shinohara had been cast as Hippopotas from the very beginning, and got an immediate
That's correct!
Hippopotas plays an essential role in this year's story, though!
You need to play close attention to what it does so you don't miss out on anything important, so please make sure to do so!
Finally, we got Mizuki Yamamoto, an expert at narrating as if she's talking to children.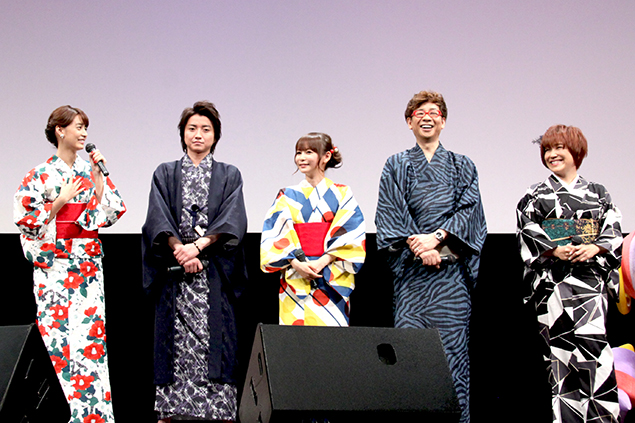 I've been watching Pokémon since I was 5 years old, so Rica Matsumoto's "I got a Pokémon!!" line earlier really hit me!
Mizuki doesn't just narrate, during "Pikachu and the Pokémon Musicians" she also joins in when the Pokémon are singing!
I always did poorly in music classes in the past, so I initially didn't really feel up for it, but when I pictured the children that would be watching this, I worked as hard as I could on it.
Mizuki is really humble here,
but the director comments
"I think she has a really good and cute singing voice!"
There's one more guest after this, too! Here's Rei Yasuda, performer of the theme song "Tweedia"!
Yasuda, what kind of song
is
Tweedia?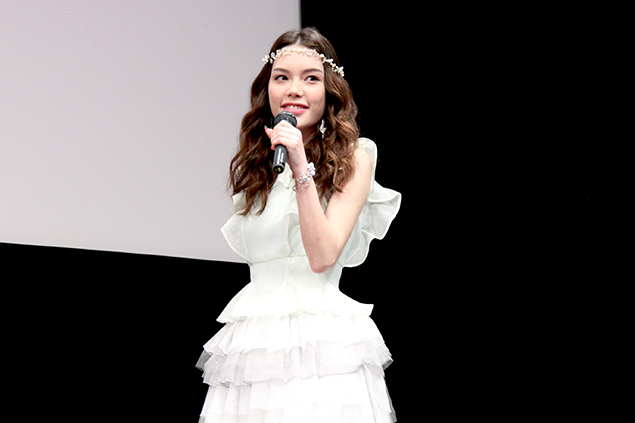 It's a song about thinking of someone dear to you. Even though you all surround yourselves with people that mean much to you, such as friends and family, it always comes across as hard to directly tell them how thankful you are to them. It'd make me very happy if listening to Tweedia makes people feel like telling their loved ones how much they appreciate them!
And of course, she then sang Tweedia, theme song to The Archdjinni of Rings: Hoopa!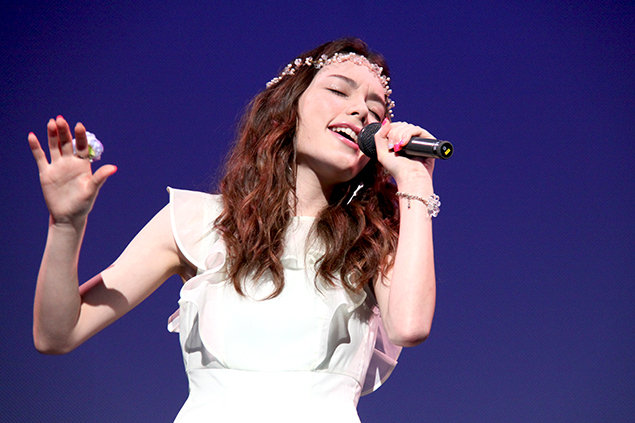 Her crisp singing spread through the room like a crystal clear blue sky!
Pikachu and Hoopa danced along too!!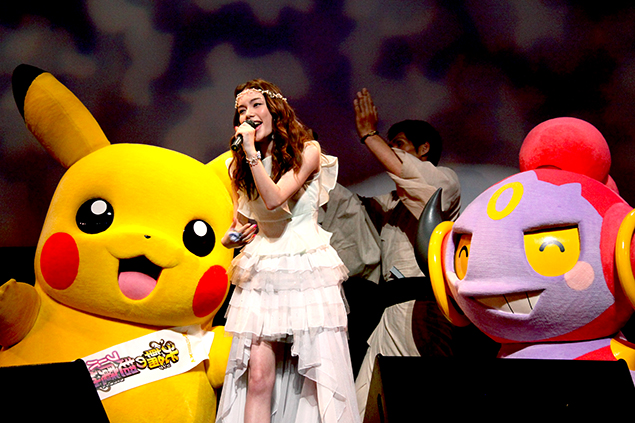 And then! A giant shadow appears behind her... could it be!?
Oh my! Shinohara isn't just happy with trying to steal Fujiwara's role as Barza, now he has his eyes set on the position of theme song perormer as well!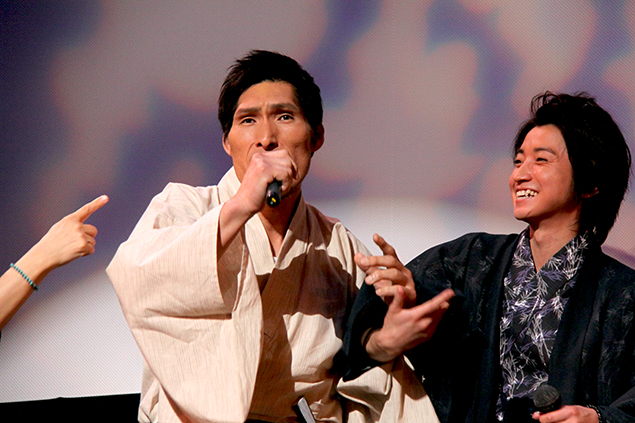 Ariiii-gatooo-! Tonaaa-ri ni iteeee-kurereeee!
Yamadera and Fujiwara desperately attempt to stop him!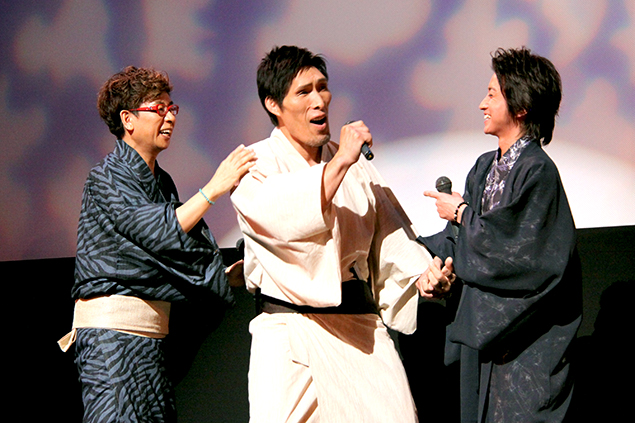 The two keep singing as if nothing is happening!!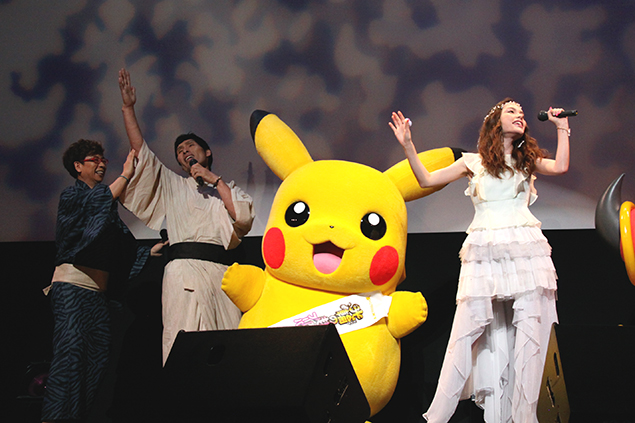 I thought I was supposed to sing the third stanza
, Shinohara said,
with Yamadera playing the straight man with with a quick
"As if!
The pre-premiere greetings ended with this amusing incident!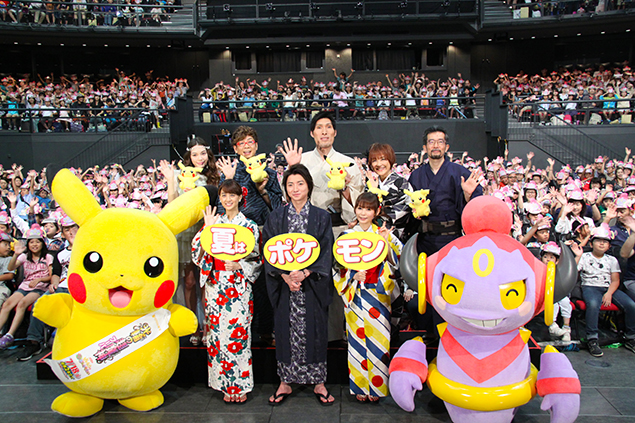 And here's what the audience had been waiting for:
They all enjoyed the first ever screening of The Archdjinni of Rings: Hoopa!
The "The Archdjinni of Rings: Hoopa/Pikachu and the Pokémon Musicians" co-feature has its public premiere Saturday July 18th!!
The special pre-order tickets with which you can receive a double giveaway of not only the mythical Pokémon Arceus, but also your choice of one of six legendary Pokémon, is currently on sale and doing very well!
It will be available until Friday July 17th! Don't forget to buy one!
Source:
http://www.pokemon-movie.jp/pokemovie_ch/?p=1125