Participating 7-Eleven locations in Japan will be distributing
Satoshi's Pikachu
and
Serena's Yancham
from
July 18th, 2015 until July 31st, 2015
through the 7STOP service.
Lugia
and
Latios
will also be distributed from
August 1st, 2015 until August 16th, 2015
. Players of
X, Y
,
Omega Ruby or Alpha Sapphire
are eligible to receive these event Pokémon.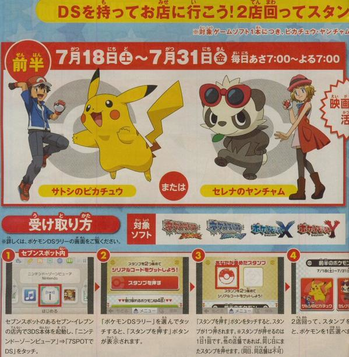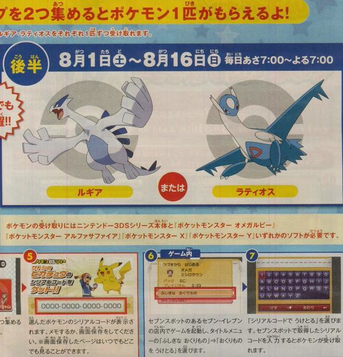 Players wishing to obtain a serial code need to connect to the DS at 7SPOT via their Nintendo 3DS between 7am and 7pm to receive a stamp. Players can receive one stamp per day per participating location. Once a player collects 2 stamps, they can obtain a serial code to unlock one of the event Pokémon.
Scan Source:
https://twitter.com/karubiimunomono/status/619732931146203138
Pokémon Headline Special - Oha Suta Segment - July 16th, 2015
As part of the Pokémon Headline Special (ポケモン ヘッドライン スペシャル) segment hosted by DJ KOZY and DJ Hanamaru (ハナマル) on July 16th, 2015, they also announced the details of this distribution and campaign to viewers of the show.