The official Japanese Pokémon website has announced a
Pikachu
distribution as part of the
Dance? Great Pikachu Outbreak! (踊る?ピカチュウ大量発生チュウ!)
festivities for 2015. The distribution is being promoted as
An alternate-colored Pikachu that knows Teeter Dance (フラフラダンスを覚えた色違いのピカチュウ)
. Players of
X, Y
,
Omega Ruby or Alpha Sapphire
are eligible to receive this event Pokémon. It will be distributed from August 8th, 2015 until August 16th, 2015 from 10:30 to 17:00 JST at the Landmark Plaza 1F - Garden Square in Yokohama, Japan.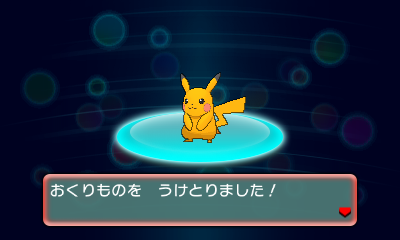 The level 10 alternate-colored Pikachu knows the moves:
Teeter Dance
,
Play Nice
,
Tail Whip
and
Nuzzle
. It is holding the Persim Berry item.
Source:
http://www.pokemon.co.jp/ex/dance_pika/news/post.php/7/#