Dave & Buster's ‏announced
via a tweet
that their Times Square location would be the first
Pokkén Tournament
test location
for players in the United States to try the game and it would be available starting the week of September 21st, 2015.
Our Pokkén Arcade Test Location page has been updated with this information
.
Source:
https://twitter.com/DaveandBusters/status/644210474792415232
Update: September 26th, 2015 - Initial Thoughts from TSS_Killer
From when I first discovered Pokkén Tournment on a Nico Nico Douga live stream, I imagined the potential this collaboration between Nintendo and Namco could bring. Japanese audiences had experienced this game for the last two months. Many people in the west were initially disappointed that Namco didn't announce any plans for releasing the arcade version here. The Wii U version is still a year away and many fans of Pokémon and Tekken alike were yearning for a chance to play this unique fighting game. Thousands of lucky fans at the Pokémon World Championships in Boston this year had their chance to play, but what about the rest of North America?
That's where Dave and Buster's comes in. The entertainment chain announced on their Twitter account that they would place Pokkén Tournament exclusively in their Times Square location starting Friday, September 25th. I thought that the game was worth the wait. Watching others play was just as fun as playing it myself. Even though I'm no expert at fighting games (I lost all four matches), I still thoroughly enjoyed it. Everything from the controller to the cabinet layout was well thought out. The unique oblong controller was extremely comfortable. The layout was spaced out in a way where there would be minimal risk of any hand cramping. The gameplay was fluid and responsive. However, the switching of battle modes also meant that the D-Pad controls slightly changed. This took a bit of getting used to, but I wouldn't call this a negative. The game has vibrant colors, advanced textures, and other eye candy that would make even the most casual fan salivate. Heated battles often occur, where a Pokemon that is counted out could get a final spurt and drop their opponents HP to zero at the last second. The adrenaline rush is immense, as you can feel the intensity popping out of the screen. Just seeing the special moves from Gengar, Gardevior, and Blaziken alone raises the intensity level to 11.
Overall, any doubts I had about this game were completely erased. Were there faults? Yes, but they were minor in comparison to other games that I've played. It's a well polished game for what essentially is a test bed for the console version that arrives exclusively on the Wii U in 2016. Myself, and many others await for the day that we too can experience this masterpiece in our homes.
Gameplay Footage
Official Guide for Field Test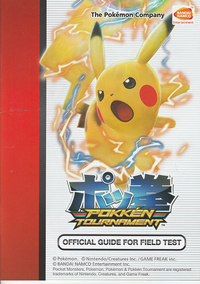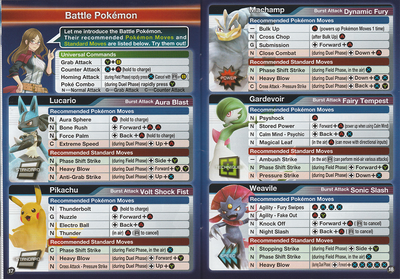 An Official Guide for Field Test was distributed to players at the Dave and Buster's test location. It includes the English names for the moves used in the game.
Scans from the guide have been added to our Imageboard thread
and
a basic moves page
has been added to our Pokkén Tournament page.