According to the April 2017 Volume 20 Number 2 Issue of License! Global Top 150 Global Licensors, The Pokémon Company International is now the 19th most profitable retail licensor worldwide selling over $3.3 billion USD a year in licensed products worldwide. The 20th Anniversary campaign in 2016 certainly helped its sales as it greatly surpassed its $2 billion USD and
34th place in 2015
. Pokémon GO and
Pokémon Sun and Moon
also helped the brand. To put this incredible achievement into perspective, The Pokémon Company International has now passed major companies such as: Ford, the NBA and Playboy for sales and is just behind the NFL and GM.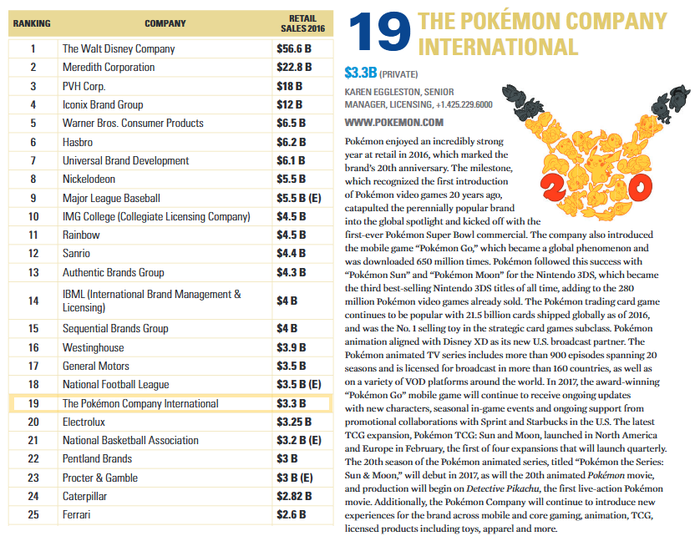 License! Global Top 150 Global Licensors Report - THE POKÉMON COMPANY INTERNATIONAL
Pokémon enjoyed an incredibly strong year at retail in 2016, which marked the brand's 20th anniversary. The milestone, which recognized the first introduction of Pokémon video games 20 years ago, catapulted the perennially popular brand into the global spotlight and kicked off with the first-ever Pokémon Super Bowl commercial. The company also introduced the mobile game "Pokémon Go," which became a global phenomenon and was downloaded 650 million times.
Pokémon followed this success with "Pokémon Sun" and "Pokémon Moon" for the Nintendo 3DS, which became the third best-selling Nintendo 3DS titles of all time, adding to the 280 million Pokémon video games already sold. The Pokémon trading card game continues to be popular with 21.5 billion cards shipped globally as of 2016, and was the No. 1 selling toy in the strategic card games subclass. Pokémon animation aligned with Disney XD as its new U.S. broadcast partner.
The Pokémon animated TV series includes more than 900 episodes spanning 20 seasons and is licensed for broadcast in more than 160 countries, as well as on a variety of VOD platforms around the world. In 2017, the award-winning "Pokémon Go" mobile game will continue to receive ongoing updates with new characters, seasonal in-game events and ongoing support from promotional collaborations with Sprint and Starbucks in the U.S.
The latest TCG expansion, Pokémon TCG: Sun and Moon, launched in North America and Europe in February, the first of four expansions that will launch quarterly. The 20th season of the Pokémon animated series, titled "Pokémon the Series: Sun & Moon," will debut in 2017, as will the 20th animated Pokémon movie, and production will begin on Detective Pikachu, the first live-action Pokémon movie. Additionally, the Pokémon Company will continue to introduce new experiences for the brand across mobile and core gaming, animation, TCG, licensed products including toys, apparel and more.
Source:
http://images2.advanstar.com/PixelMags/license-global/pdf/2017-04-top150.pdf (Page T14)