The
HORI Nintendo Switch Pokkén Tournament DX Pro Pad Wired Controller
officially licensed by Nintendo and The Pokémon Company has begun showing up on North American merchants website. The controller will work with the Nintendo Switch. Pre-orders are $24.99 USD and the item will be released on September 22, 2017.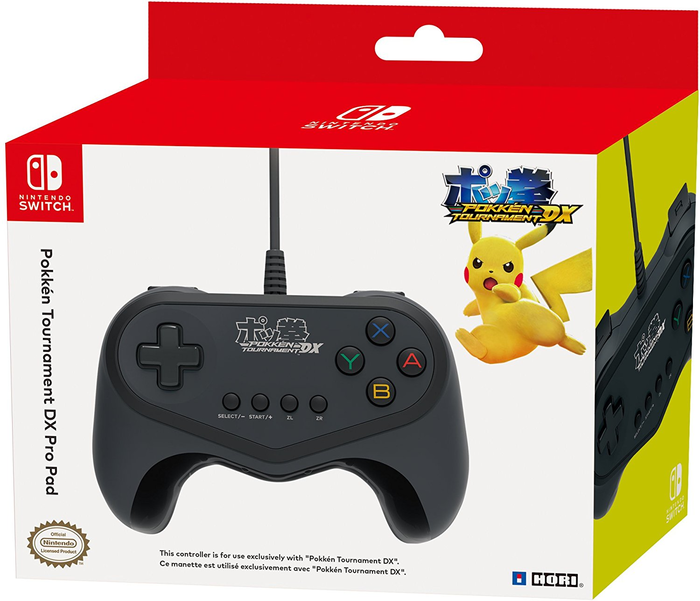 Product Highlights:
Officially Licensed by Nintendo and Pokémon
Design based on the Official Pokkén Tournament arcade cabinet controller
Ergonomic design and button layout optimized for Pokkén Tournament DX
Wired controller with 9.8 ft cable
Perfect for Pokkén Tournament fans!
Product Description:
Enjoy authentic arcade action at home! Designed by HORI, the same designers of the official Pokkén Tournament arcade cabinet controller, the Pokkén Tournament DX Pro Pad is a limited edition controller designed exclusively for use with Pokkén Tournament DX for the Nintendo Switch. This wired USB pad is ergonomic, comfortable, responsive and super effective for controlling your favorite Pokemon in Pokkén Tournament battles. USB wired (9.8ft) connection is tournament legal. Controller is designed for Pokkén Tournament DX for Nintendo Switch and may not function properly with other game titles. Does not include motion control, analog control, or vibration feedback. NOTE: Please press "Start" on the Pokkén Pro Pad at main title screen to activate as main controller.
Source:
https://www.amazon.com/Nintendo-Tournament-Controller-Officially-Licensed-Pokemon/dp/B01A6LEXFK