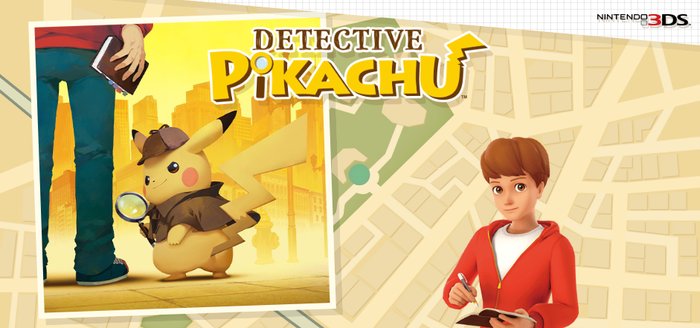 The
official Detective Pikachu website
has launched and has posted story information, biographies of the characters as well as screenshots from the game.
A New Side of Pikachu
You've never seen a Pikachu like this one before. Fancying himself a real detective, this Pikachu is gruff and never far from a hot cup of coffee. He's also a big talker who considers himself to be among the best of the best!
This bossy Pikachu has the attitude of a stern, middle-aged man, which he'll make abundantly clear to you throughout the game. Look forward to hearing his catchphrase "A bolt of brilliance!" as often as possible.
It's not just his ability to speak or his attitude that sets this Pikachu apart from other Pikachu you've seen. He loves to laugh and to solve mysteries, and he'll show you just how exasperated he can get if you blunder through your next case.
Not to mention that detective hat—a bit of a giveaway that he's eager to look the part, too!
Story/Information:
Crack the case in this new detective adventure game by interacting with a unique, fully-voiced Pikachu!
As Tim Goodman, you'll partner with a self-proclaimed "great detective" Pikachu to solve strange occurrences all over Ryme City. Together you must investigate, take notes, and meet up with other Pokémon to unravel the city's greatest mysteries!
Tim is searching for his missing father in Ryme City, but instead encounters a witty, tough-talking Pikachu! Along the way, experience over 150 fun-filled animated cutscenes starring this unique Pikachu, providing helpful hints or talking up a storm. You can also tap the extra-large Detective Pikachu amiibo™ figure to access all cutscenes up until the current chapter played. As you investigate crime scenes, gather testimonies, uncover information, and interact with Pokémon to solve cases. You'll have to put your detective skills to the test to foil the mastermind behind the disturbances in Ryme City. All in a day's work for detective Pikachu!
Features:
Team up with self the pro-claimed "great detective" Pikachu!
Experience over 150 animated cutscenes of a fun, and witty talking Pikachu
Investigate the scene, take notes and crack the case!
Interact with various Pokémon throughout Ryme City
Source:
https://www.nintendo.com/games/detail/detective-pikachu-3ds
Demo Announced for Japan:
A demo version of Detective Pikachu will be available as a free download on the Japanese Nintendo e-shop starting on March 9th, 2018. In the special demo version, the beginning of the game can be played! In addition, the saved data from the special demo version can be transferred over to the full retail version, if you buy the game after the release date, so players can continue on from the end point of the demo version.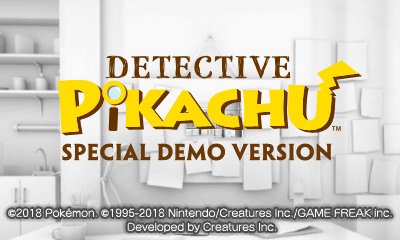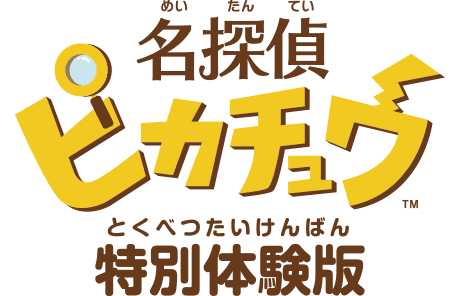 Source:
http://www.pokemon.co.jp/ex/meitantei_pikachu/news/180223_01.html
Detective Pikachu HOME Menu Theme Offer:
For a limited time, players who purchase the Detective Pikachu game will receive a bonus download code for a Detective Pikachu theme for the HOME Menu on the Nintendo 3DS family of systems, including Nintendo 2DS and New Nintendo 2DS XL. Starting March 8th, 2018 at 9:00am PST, those that pre-purchase the digital version of the Detective Pikachu game on Nintendo eShop or Nintendo.com, or starting March 23rd, 2018, purchase the digital or packaged version of the game on Nintendo eShop, Nintendo.com, or select retailers (Amazon, GameStop, and Best Buy) to get a bonus code and enjoy this cool yet cute Detective Pikachu theme! Offer ends April 22nd, 2018.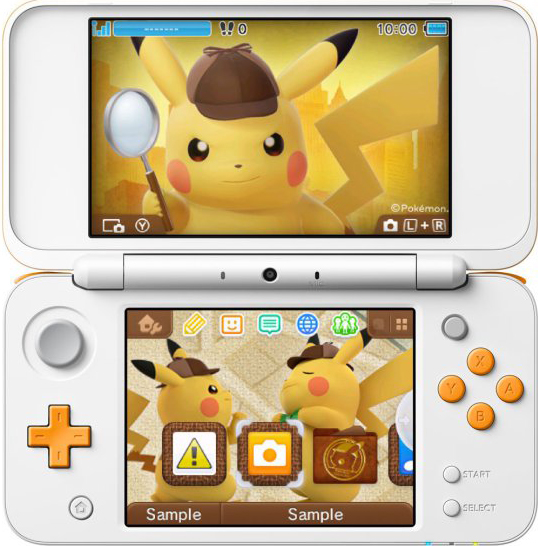 Detective Pikachu - Chapter 0 - Eievui's Request Story Book
For those who pre-order the physical copy of Detective Pikachu at a Pokémon Center, Pokémon Store or the Pokémon Center Online nationwide in Japan, they can receive a special story book called:
Detective Pikachu - Chapter 0 - Eievui's Request
. The story is about an incident resolved just before Pikachu meets his buddy Tim. In addition, a Detective Pikachu Rubber Key Holder also comes with pre-orders. The Rubber Key holder gift is not limited to Pokémon Centers though.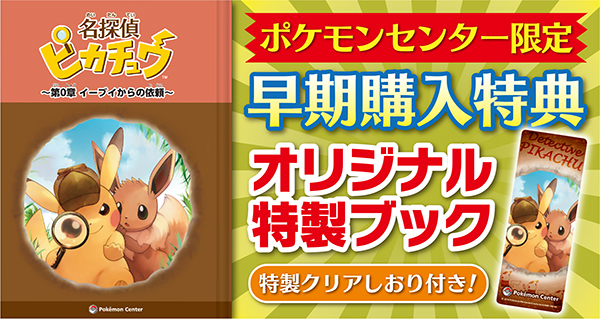 YouTube Trailer - Detective Pikachu: Get Ready to Crack the Case! - Nintendo 3DS
Source:
https://www.youtube.com/watch?v=HuwqoTe836s
YouTube Commercial - Detective Pikachu
Source:
https://www.youtube.com/watch?v=Fctxf4tFk_8