From April 4th, 2018 until April 25th, 2018, Entei and Raikou will be available to get wirelessly via the Nintendo Network on the Nintendo 3DS in Europe while players in the United States must obtain them from participating Target stores. Players in Canada can get them in the Pokémon Trainer Club Newsletter. Players of Pokémon Ultra Sun or Pokémon Sun will be able to get Entei while players of Pokémon Ultra Moon or Pokémon Moon can get Raikou.

LEGENDARY POKÉMON ENTEI AND RAIKOU CHARACTER DISTRIBUTION COMING VIA WIFI IN APRIL
The Pokémon Company International today announced that Entei and Raikou will be the next Pokémon featured in the yearlong celebration of Legendary Pokémon. Beginning April 4 until April 25, the Legendary Pokémon Entei or Raikou will be wirelessly distributed via Nintendo Network for Pokémon Sun, Pokémon Moon, Pokémon Ultra Sun, or Pokémon Ultra Moon games for the Nintendo 3DS™ family of system.
Both powerful Legendary Pokémon from the Johto region, Raikou can shoot bolts of lightning from the rain clouds on its back and Entei is thought to have been born inside an erupting volcano. Each is a significant addition to any Trainer's lineup. Players will receive one of these Legendary Pokémon in their game, which one determined by the version they have, as well as an extra gift if redeeming in Pokémon Ultra Sun or Pokémon Ultra Moon.
On April 6, The Pokémon TCG: Legends of Johto GX Collection will be available at participating retailers. This impressive collection includes never-before-seen foil promo cards featuring Entei-GX and Raikou-GX and much more.
Boosters featuring Entei and Raikou are also available for in-app purchase in Pokémon Duel, the exciting mobile strategy game in which fans deploy digital Pokémon figures and battle based on strategic moves to reach a goal in the opponent's territory.
Entei and Raikou - Level / Moves: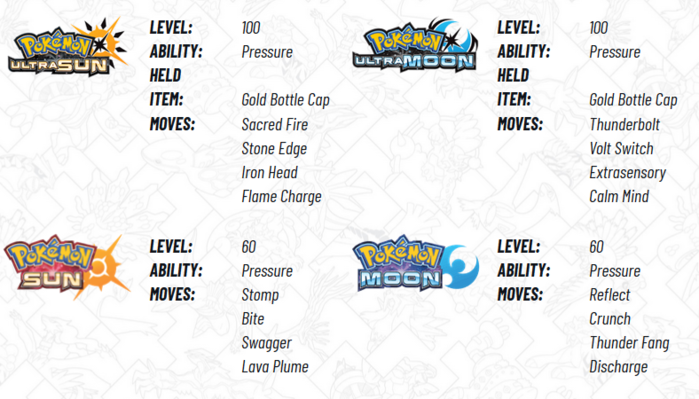 YouTube Trailer - Entei and Raikou Join the 2018 Legendary Pokémon Celebration!
Source:
https://www.youtube.com/watch?v=omkIB_wAguA