From May 4th, 2018 until May 27th, 2018, Yveltal and Xerneas will be available to get at participating stores around the world via a code to obtain Yveltal in Pokémon Ultra Sun or Pokémon Sun or Xerneas in Pokémon Ultra Moon or Pokémon Moon.

Canada / Australia: EB Games
Germany / Italy / United States: GameStop
United Kingdom / Spain: GAME
France: Micromania
LEGENDARY POKÉMON YVELTAL AND XERNEAS CHARACTER DISTRIBUTION COMING IN MAY
PLUS YVELTAL AND XERNEAS BOOSTERS ARE AVAILABLE IN LATEST POKÉMON DUEL BOOSTER The Pokémon Company International announced today that Yveltal and Xerneas will be the next Pokémon featured in the yearlong celebration of Legendary Pokémon. Beginning May 4 until May 26, players can receive either Yveltal or Xerneas* in their Pokémon Ultra Sun, Pokémon Ultra Moon, Pokémon Sun or Pokémon Moon game for the Nintendo 3DS™ family of systems. Code cards will be available at GAME in the UK and GameStop in Ireland.
In addition, both Yveltal and Xerneas are two of the 11 new Boosters available from today in Pokémon Duel as part of the game's latest update.
These Legendary Pokémon first appeared in Pokémon X and Pokémon Y. When the wings and tail feathers of Yveltal spread wide and glow red, it can absorb the life force of living creatures. Xerneas is a Fairy-type Pokémon, and it is said it can share eternal life when the horns on its head shine in seven colours.
Yveltal and Xerneas - Level / Moves: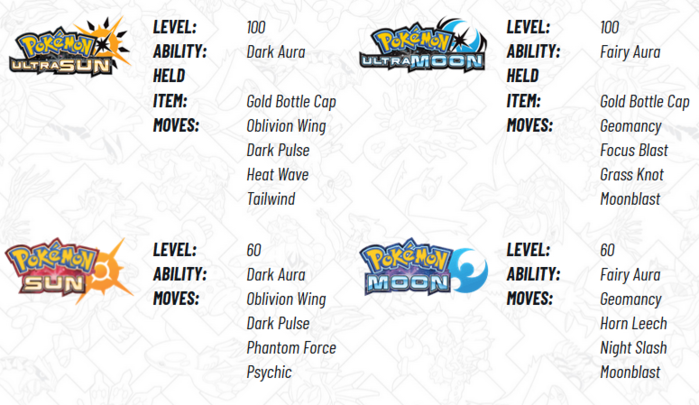 YouTube Trailer - Add Xerneas or Yveltal to Your Pokémon Game in the Year of Legendary Pokémon!
Source:
https://www.youtube.com/watch?v=D4iX3qqwtTc