The
Ultra Spooky Cup (トリックホリック)
online competition for
Pokémon Ultra Sun and Ultra Moon
has been announced on the Pokémon Global Link website. Full details are listed below and on our
7th Generation Online Competitions
page which will be updated as new tournaments are announced.
Ultra Spooky Cup (トリックホリック)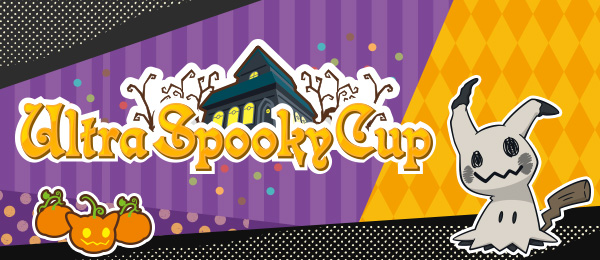 Region: International
Registration Period: Thursday, October 18th, 2018 at 00:00 UTC through Thursday, October 25th, 2018, at 23:59 UTC
Tournament Period: Friday, October 26th, 2018 at 00:00 UTC through Sunday, October 28th, 2018, at 23:59 UTC
Ranking Results Announcement: November 2018
Compatible Games: Pokémon Ultra Sun and Pokémon Ultra Moon
Battle Type: Single Battle
Banned Pokémon: National Pokédex No. 001 through 807 are eligible, excluding some Legendary Pokémon, most Mythical Pokémon, and all Pokémon that are not spooky.
Entry Gift: All qualified participants in the Ultra Spooky Cup Online Competition will receive a Shiny Mimikyu.
The newest Online Competition may send shivers down your spine and put a Shiny Mimikyu in your goody bag, too. It's time to sign up for the Ultra Spooky Cup, a Single Battle competition permitting only the spookiest and creepiest Pokémon we could track down. This competition will feature plenty of haunting Ghost types (like Palossand), Pokémon with a sinister visage (like Midnight Form Lycanroc), and even Pokémon like Pikachu and Eevee that are known to wear costumes for special occasions. Be prepared—even the spookiest of Mythical Pokémon will be haunting this Pokémon Ultra Sun and Pokémon Ultra Moon competition!
• Mega Stones are not permitted.
• Duplicate items are not permitted.
• Duplicate Pokémon are not permitted.
• Pokémon must have a black clover symbol to be eligible.
• Register three to six of your Pokémon to your Battle Team.
• All Pokémon in this competition will automatically become Lv. 50 for the duration of each match.
• A 10-minute time limit for each player will automatically be enforced in-game, beginning at the start of each battle. When a player's time limit expires, that player will lose the game.
• At the beginning of each turn, players have 60 seconds to select a Pokémon or a move. If a player has not made their selections at the end of this period, the game will automatically make selections for the player.
• Players may battle up to 15 games per day of the competition. Any unplayed games will carry over to the following day. A new day begins at 00:00 UTC.
Source:
https://3ds.pokemon-gl.com/information/a084e3b9-521c-4ce6-b3b1-b8de772030b4