Nintendo of Japan has revealed 2 new Nintendo 3DS themes:
100 Poké Night Stroll (ポケモン 百ポケ夜行)
and
Pokémon Ultra Beast (ポケモン ウルトラビースト)
which are available to purchase on the eShop for 200yen each. Both themes are available on the Japanese Nintendo 3DS eShop as of October 31st, 2018.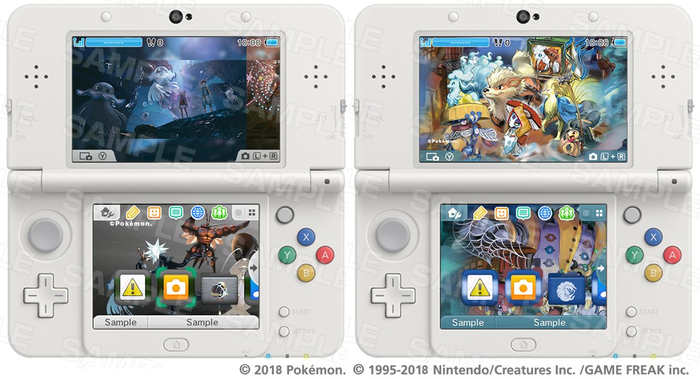 100 Poké Night Stroll
Features:
In the middle of the night when people sleep, a lively voice is heard. Various Pokémon appear from in the mist.
Music:
Malie City Night [マリエシティ(夜)]
Pokémon Ultra Beasts
Features:
The top screen has 3 separate CGI scenes featuring the Sun and Moon protagonists with different Ultra Beasts. The bottom screen is 1 CGI render of all 11 Ultra Beasts in line.
Music:
Ultra Beasts...? (ウルトラビースト・・・?)
Source:
https://www.nintendo.co.jp/hardware/3dsseries/theme/index.html