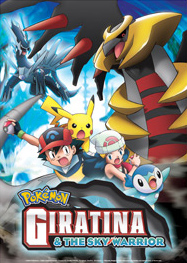 The newest Pokemon movie is on its way, and it's a mix of action, adventure, and drama that will definitely grow on you!
It won't be long until new Pokemon are added to the family, and true to form, there's a movie coming -- Pokemon: Giratina and the Sky Warrior -- that explains their roles in the Pokemon universe. We're not giving away secrets, either (not yet), but you will definitely be amazed by the powerful battles, the touching friendships that are forged, and the devastating destruction that threatens to turn the world upside down -- and inside out in this movie! Whoops! See, we went and said too much already! Make sure to bring plenty of popcorn for the premiere of Giratina and the Sky Warrior, coming soon to DVD!
The current voice actor for Ash Ketchum in the English dub, Sarah Natochenny, posted her voice over resume on her website earlier this month with the title for the upcoming 11th Pokémon Movie. The title has now been confirmed and the English dub title will be "Giratina and the Sky Warrior". Her website indicates that the movie would be coming out in 2009, but by the tone of Pokemon.com's news release, we
may
see it sometime in December to coincide with the Japanese DVD release and the Christmas gift rush.
Giratina and the Sky's Bouquet: Shaymin (Japanese:ギラティナと氷空の花束 シェイミ ) is the second Pokémon movie of the Diamond & Pearl movie trilogy, and the eleventh Pokémon movie overall. It premiered in Japan on July 19, 2008 and the Japanese DVD will be released on December 19th.
Source:
http://www.pokemon.com/#news_/XML/news_325.xml