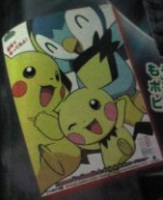 A picture from the December 2008 edition of Corocoro has leaked onto the Japanese forum 2ch. The picture is a poster for the new upcoming 12th Pocket Monsters movie. The Movie 12 website officially launched today and the tentatively titled movie is called 'To the Conquest of Space and Time' 「超克の時空へ」 It is scheduled to be released in Japanese theaters on July 18, 2009. The official website also posted a small trailer which shows that 'Platinum' has also been added to the title.
The full movie title will be announced sometime in the spring. Director Kunihiko Yuyama announced in the DP97 special that "the key Pokémon will be an Electric Type." With the revealing of Pichu on the poster, this seems to indicate that a Pichu will have a large role in the upcoming movie. The offical website posted more information about the Pichu. It is a Female, 'Notched-Ear Pichu' Its left-ear is a bit different that a normal Pichu.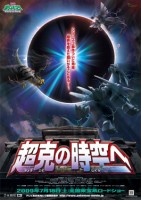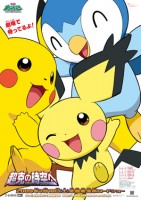 The offical website also posted the teaser posters for the upcoming movie.
Source:
http://www.pokemon-movie.jp/