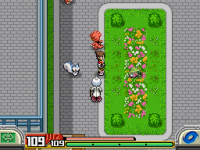 Pokemon Ranger: Shadows of Almia allows you to download very rare and special extra missions by connecting to Nintendo Wi-fi Connection. An exciting new mission - "For the Bride and Shaymin!" - is coming March 1st, 2009 to Ranger Net.
To play this extra mission, you need to play through the game until you reach the end. To receive this extra mission on March 1st, go to Ranger Net from the main menu and download it via Nintendo Wi-Fi Connection. This extra mission is only available March 1st, 2009 through April 30th, 2009!
Unlike Special Mission, this Extra Mission does not allow you to transfer Shaymin to your copy of Pokemon Diamond Version or Pokemon Pearl Version.
Source:
http://www.pokemonranger.com/