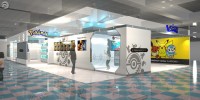 The 6th Pokemon Center in Japan will open on March 6th in Sapporo, Hokkaidō, Japan. Sapporo is best known outside Japan for hosting the 1972 Winter Olympics. The Sapporo Pokemon Center will stock most of the regular Pokemon products such as the anime, card game, decorations and party items.
In commemoration of the opening of the Sapporo Pokemon Center, there will be limited edition gifts. The gifts have yet to be announced.
To the right is a computer generated rendering of what the new Sapporo Pokemon Center will look like.
Click on the picture for a higher resolution.