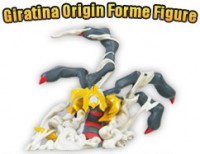 Beginning February 15th, Pokemon fans who reserve a copy of Pokemon Platinum Version for the Nintendo DS will receive an exclusive Giratina Origin Forme figure while supplies last.
The figure will be available nationwide through participating retailers, which may require a deposit to reserve the game. Most retailers will provide the figure when a reservation is made, but be sure to check with your favorite video game retailer for more details.
The sculpted Giratina Origin Forme figure strikes a dramatic pose and stands about 2.75 inches tall. It is crafted by Kaiyodo, an internationally renowned figure-making company.
The official Pokemon Platinum Version website was also announced on Pokemon.com and it should be opening soon.
Source:
Pokemon.com
and
EBgames