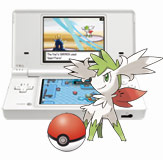 Between April 4th and April 18th,
participating GAME Stores across the United Kingdom
will be running events where you can have your face painted, get your balloon Pokémon, and meet some of the Pokémon characters, all in store! Plus you'll even be able to battle the legendary Pokémon trainer!
Store event activities will vary from store to store, so be sure to
phone your nearest GAME Store
ahead of visiting to find out more. You will also be able to get Shaymin transferred to your copy of Pokémon Diamond or Pearl for the first time ever!
In this month's issue of Nintendo Acción, information about the Shaymin distribution in Spain was announced. Participating
GAME Store's
across Spain will also be distributing Shaymin starting on April 15th.
Nintendo also announced that Germany will also have a Shaymin distribution event from April 25th to 17 May 2009. McDonald's restaurants in Berlin, Leipzig, Hamburg, Hannover, München, Nürnberg, Stuttgart, Karlsruhe, Frankfurt am Main and Mülheim have all been announced as Shaymin distribution locations.
Information about the Shaymin events in
Norway
,
Sweden
and
Denmark
have now been posted. If you've pre-ordered Platinum at a
Norwegian
,
Swedish
or
Danish Gamestop
, you can download Shaymin to your Diamond or Pearl game on May 15th. For those that don't pre-order Platinum, you can get it the week of May 22nd. You must have a European version of the game in order to get Shaymin.
The
official Nintendo website
has also confirmed that France, Italy, Belgium, and the Netherlands will also have Shaymin events, but specific information for those countries is currently unavailable.
It has recently been revealed that Shaymin can not be downloaded to a Platinum game, players are required to have a Diamond or Pearl game.
How to Obtain Shaymin:


You must have a Nintendo DS and either the Pokémon Diamond or Pokémon Pearl version of the game.


You can only get 1 Shaymin on each Pokémon Diamond or Pokémon Pearl Game Card.


Make sure you've obtained the Pokédex in your game and that you don't have more than two Wonder Cards. If you do, you'll need to delete one to make room.


Start your Nintendo DS and launch Pokémon Diamond or Pokémon Pearl. Then simply select "Mystery Gift" on the game menu that appears before loading your game and indicate your wish to receive the gift via wireless download.


Sources:
http://www.game.co.uk/pokemonevent/
and
http://ms.nintendo-europe.com/shaymin/