The Pokémon TCG -Ice Rider and Shadow Rider Calyrex V Boxes have been revealed and they will be released on August 6th, 2021 for $19.99 USD.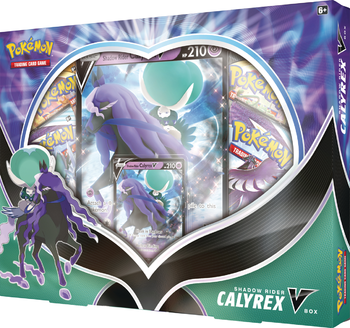 Product Description:
POKÉMON TCG: ICE RIDER CALYREX V BOX POKÉMON TCG: SHADOW RIDER CALYREX V BOX
Command Frozen Lands and Shadows—with Two Forms of Calyrex V!
Calyrex V fuses two kinds of power, charging through ice and shadows on its trusty steed! Enhance your collection with this royal Pokémon, and find helpful allies, skilled Trainers, and other treasure in Pokémon TCG booster packs. Whether you choose Ice Rider Calyrex V or Shadow Rider Calyrex V, you'll add a powerful Legendary Pokémon to your collection!
The Pokémon TCG: Ice Rider or Shadow Rider Calyrex V Box includes:
• 1 of 2 promo cards featuring Ice Rider Calyrex V or Shadow Rider Calyrex V
• 1 of 2 foil oversize cards featuring Ice Rider Calyrex V or Shadow Rider Calyrex V
• 4 Pokémon TCG booster packs
• A code card for the Pokémon Trading Card Game Online