The FA have teamed up with Pokémon for an awesome collaboration that is sure to score with both Futsal and Pokémon fans alike. We are excited to announce that the Exclusive Pokémon Trading Card Game cards are available at GAME! These highly collectible GAME Exclusive Pokémon cards, featuring fan-favourite Pokémon wearing the England national team football shirts.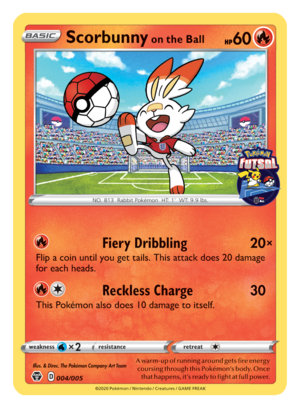 The third Pokémon Futsal card to be revealed is Scorbunny. Add this high scoring Pokémon to your collection now. Don't forget to stay tuned to find out who will feature on the fourth and final card in this exclusive set. These rare cards will only be available with selected Pokémon Trading Card Game bundles online and a £15 minimum spend in stores.
There are a total of 5 cards to collect, 4 exclusive to GAME, and the 5th card from Pokémon and The FA! The fifth card will be made available at a later date to participants in Pokémon Futsal programme.
Source:
https://www.game.co.uk/