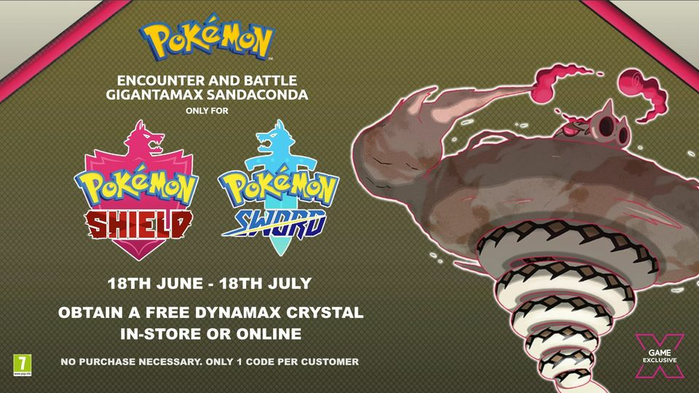 A serial code distribution for a Dynamax Crystal ☆Sgr7348 which allows players of Pokémon Sword and Shield to encounter Gigantamax Sandaconda in a Max Raid Battle is being distributed in Europe from June 18th, 2021 until July 18th, 2021 at participating retailers. This code must be redeemed by October 31st, 2021.
Using this Dynamax Crystal will make a special Max Raid Battle available in your game where you'll be able to face Gigantamax Sandaconda. You'll be able to attempt this Max Raid Battle as many times as it takes to win or until midnight on the day that the Dynamax Crystal was used.
Serial Code Distribution:
GAME -
UK
Micromania - France
GameMania - Belgium and The Netherlands
Gamestop -
Gemany
, Italy,
Austria
How to Receive the Gigantamax Sandaconda Dynamax Crystal
Launch your Pokémon Sword or Pokémon Shield game.
Select Mystery Gift on the X menu.
Select Get a Mystery Gift.
Select Get with Code/Password to connect to the internet.*
Enter your code.
Watch as the gift arrives in your game. (Pokémon will appear in your party or your Pokémon Boxes. Items will appear in your Bag or in the fitting room of any boutique in the Galar region.)
Be sure to save your game.
Distribution Details:
Receive a free code for a Dynamax Crystal in selected stores. For online please enter a valid email address and allow up to 7 working days for receipt of code. Offer available from 00:01 on 18th June 2021 until 18th July 2021. No purchase necessary. One code per customer. Offer available while stocks last - stock levels and availability for eligible products will vary over time and from store to store and so may not always be available. GAME reserves the right to amend or cancel this offer at any time without prior notice. Launch Pokémon Shield or Pokémon Sword game to redeem code. GAME reserves the right to refuse anyone believed to be representing a trade buyer. Your legal rights are not affected.