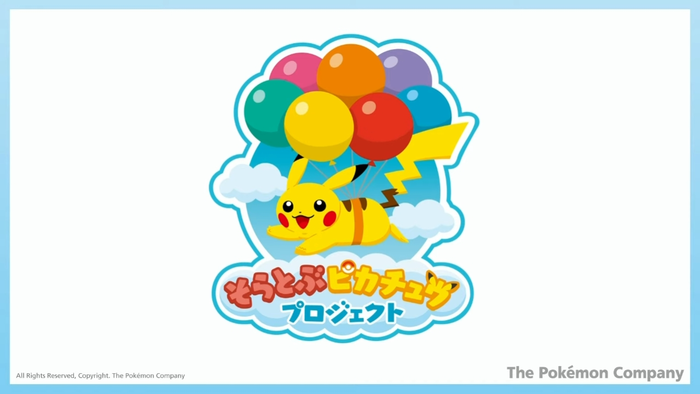 On June 21st, 2021, The Pokémon Company announced a new project called the
Pokémon Air Adventures - Flying Pikachu Project (そらとぶピカチュウプロジェクト)
, which aims to revitalize the aviation and tourism industries in Japan. This project is being carried out in cooperation with Skymark Airlines and other companies and organizations in Okinawa with various Pokémon appearing in tourist spots and as souvenirs. All the copyright fees for this project are free of charge, and Pokémon is covering some of the costs of the project.
An Imageboard thread featuring press release pictures and photos from the announcement event has been added
.
The Pokémon Company president Tsunekazu Ishihara was on hand to announce this project. The Pikachu Jet is currently scheduled to operate in various countries and regions around the world. This project is planned to expand to the rest of the world in the future, and the Pikachu Jet will connect the skies of the world.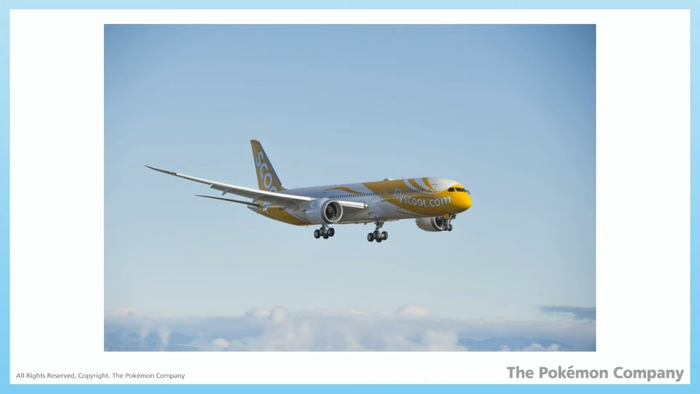 In addition to Japan, there will be initiatives with
Scoot
, a low-cost carrier in the
Singapore Airlines Group
, and several other foreign airlines.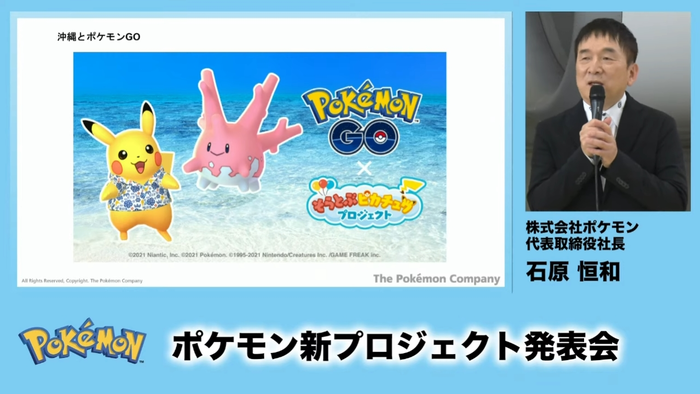 To commemorate the project, a Pikachu wearing kariyushi shirt and a different colored Sunnygo will appear in Pokémon GO starting July 22nd, 2021, the fifth anniversary of Pokémon GO's release in Japan. Kariyushi Pikachu is a Pokémon that can be found in the wild only in Okinawa, and is scheduled to appear for more than a year.
Full details of this event were announced by Niantic
.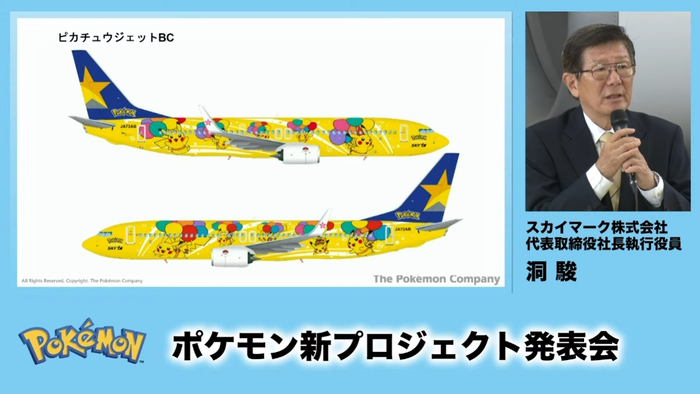 Pikachu Jet BC (ピカチュウジェットBC) is a jumbo jet connecting Okinawa and various places. This is Skymark's first fully painted aircraft, and the painting fee was paid by The Pokémon Company. The first flight was at 3:35 p.m. JST on June 21st, 2021, departing from Haneda Airport and heading for Naha Airport.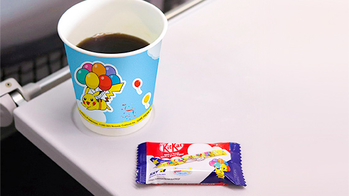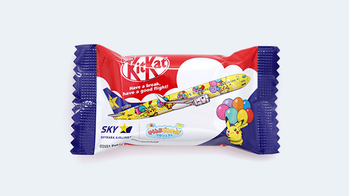 In the flight cabin of the Pikachu Jet BC, you will be offered a KitKat with original design wrapping of the Flying Pikachu Project, an original mask of the Pikachu Jet BC provided by Medicom Japan, and paper cups. Pokémon will also be featured on the aprons of the flight attendants, boarding passes, and various other items to add color to your flight.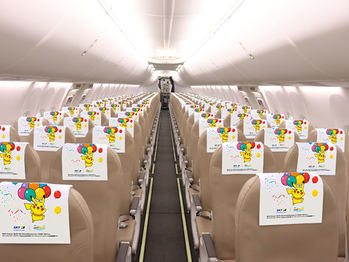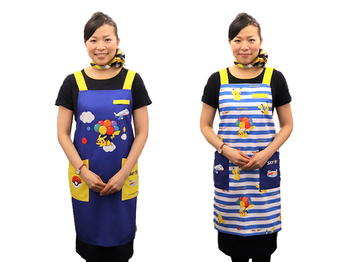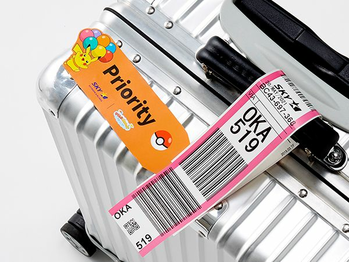 A.R. Medicom Inc. Asia Limited, in collaboration with Pokémon's Flying Pikachu Project is providing free masks with Pokémon designs for the Pikachu Jet BC.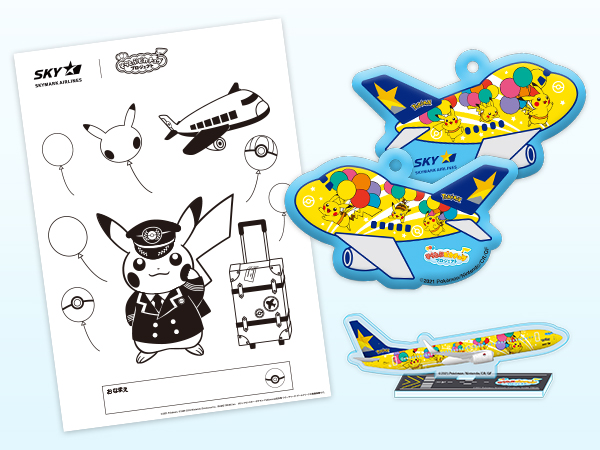 Children who board the Pikachu Jet BC will receive an original sponge key ring, an acrylic stand, and coloring pages.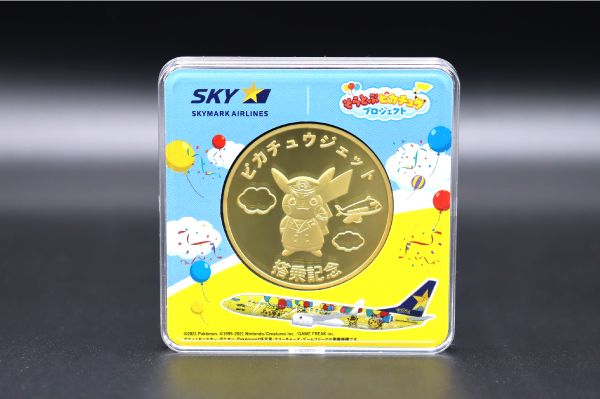 Pikachu Jet BC commemorative medals, Pikachu Jet BC mini pouches, and Pikachu Jet BC die-cast planes will also be available for purchase on board. Please be sure to get one to commemorate your flight on the Pikachu Jet BC.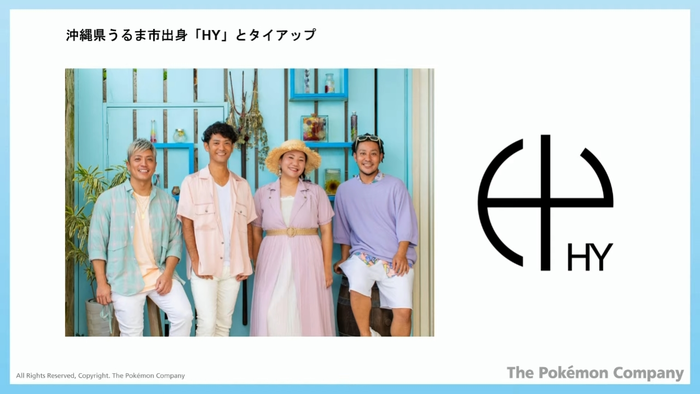 To commemorate the inauguration of the project, an original song produced by HY, an artist from Okinawa Prefecture, will be released.
Special Shop at Naha Airport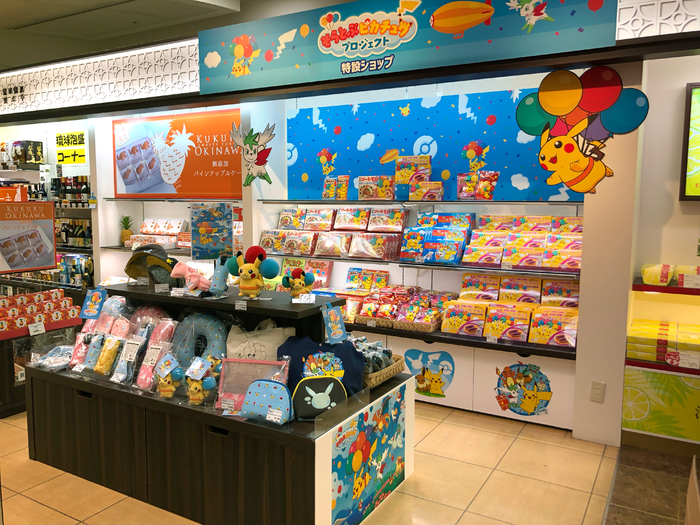 A pop-up store,
Flying Pikachu Project Special Shop (そらとぶピカチュウプロジェクト特設ショップ)
, will open at Naha Airport on Monday, June 21st, 2021. Original items for the Flying Pikachu Project and souvenirs of Okinawa Prefecture with Pokémon designs will be sold at a space in a department store on the 2nd floor of Naha Airport domestic flights area.
Pokémon Wrapped Public Transportation in Okinawa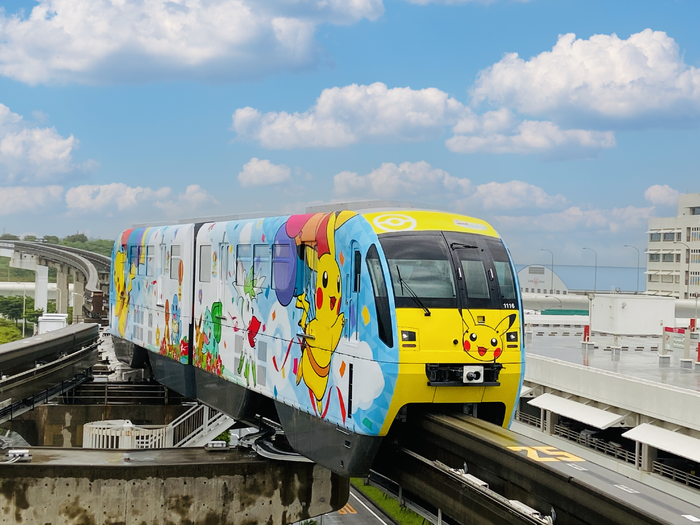 Yui Rai, Okinawa's Urban Monorail system, which connects Naha Airport and Urasoe City, has wrapped some monorail cars with an original Flying Pikachu Project design. It depicts Pikachu and Shaymin (Sky Form) Flying. Please enjoy sightseeing in Naha by riding in a vehicle wrapped with Pokemon.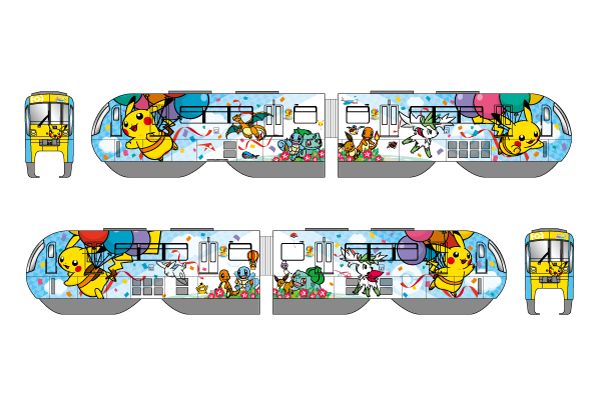 Highway and Route Buses with Pokémon Unveiled
Buses in Naha city (Toyo Bus, Ryukyu Bus Transportation, Naha Bus, and Okinawa Bus) will be running wrapped vehicles with the original designs based on the Flying Pikachu Project. Please enjoy sightseeing around Naha City with Pokemon. Express buses connecting Naha Airport and Nago Churaumi Aquarium will also have Pokémon painted on them. Please enjoy your trip around Okinawa Prefecture with Pokemon.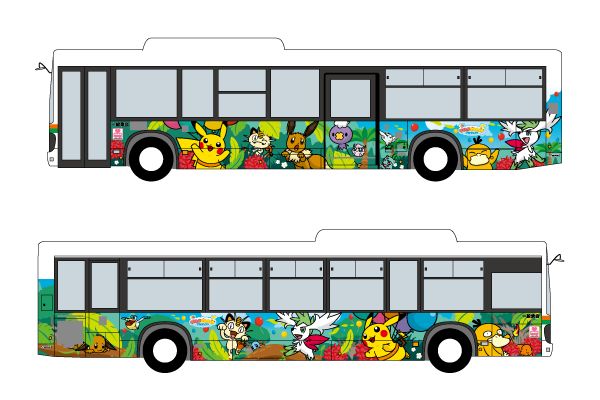 The wrapped Toyo Bus depicts Pokémon frolicking in a forest full of Okinawan plants.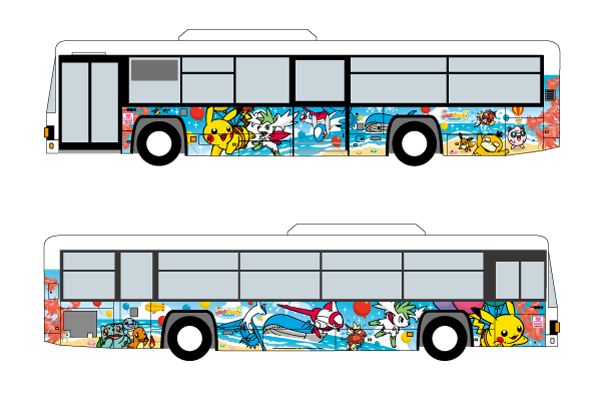 The wrapped Ryukyu Bus depicts Pokémon running around in Okinawa's beautiful sea.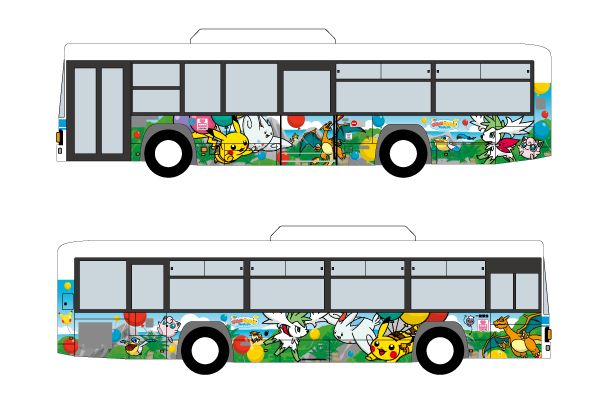 The wrapped Naha Bus depicts Pokémon flying through the sky in the wilderness of hills and greenery.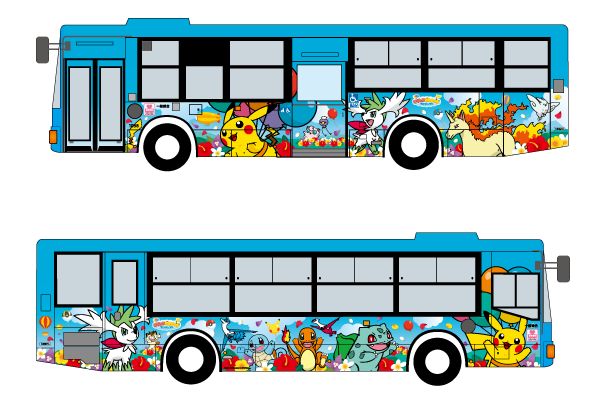 The wrapped Okinawa Bus depicts Pokémon dancing happily among the flowers that color Okinawa.
PokéLids - Okinawa Prefecture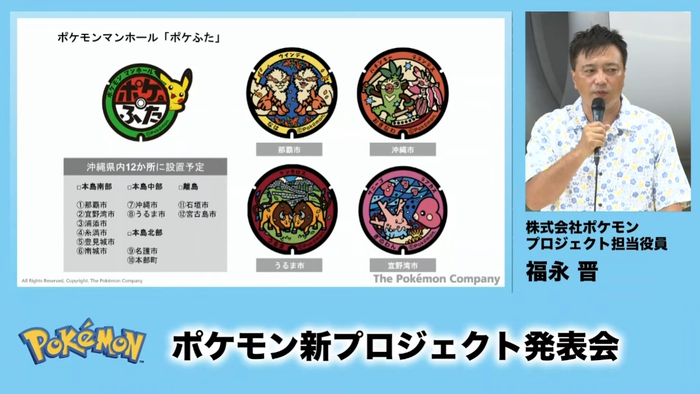 To commemorate the launch of the Flying Pikachu Project, four new PokéLids were unveiled. PokéLids which depict Pokémon with an Okinawan flavor, will be installed at four locations in Okinawa Prefecture (Naha City, Okinawa City, Ginowan City, and Uruma City). The PokéLids in Okinawa are inspired by the Okinawan Landscape. More PokéLids will be installed at other locations in Okinawa Prefecture in the future.
Each PokéLids is an original design and each is unique. The PokéLids will continue to be installed for years to come. More than 160 PokéLids have been installed already in locations throughout Japan and they will serve as an opportunity for many people throughout Japan and around the world to learn about the charms of Pokémon and the locations the lids are installed at.
The PokéLids that are installed will gradually become PokéStops for the location-based game Pokémon GO for smartphones.
Let's find Pokémon during sightseeing in Okinawa!
Pikachu wearing Kariyushi wear, a prefectural product of Okinawa, will appear for the first time to promote Okinawa's attractions. Initiatives with tourist facilities in Okinawa Prefecture such as Okinawa World, Ocean Expo Park and Okinawa Churaumi Aquarium, Kouri Ocean Tower, Bios Hill, and Busena Underwater Park will start sequentially in July 2021. At these places, various Pokémon, including Kariyushi Pikachu, will greet visitors to liven up Okinawa. Visitors will be given stickers with Pokémon on them.
Ocean Expo Park and Okinawa Churaumi Aquarium - Located in the Ocean Expo Park, this aquarium allows visitors to experience the ocean of Okinawa, from the shallow waters to the offshore tide and the deep sea. There is also a spot where you can take a photo with Pikachu Flying. Take a ride on the Pokémon painted sightseeing car and tour around the park.
Pokémon Okinawa Sightseeing Tour
Reservations are now open for a Pokémon-filled sightseeing tours in Okinawa. The
Flying Pikachu Project: Play with Pikachu in Okinawa
, is a tour that allows you to fully enjoy Okinawa with Pikachu Flying and it is available for reservation on the HIS official website starting on June 21st, 2021 before the tour starts on July 17th, 2021. Specially designed Pokémon goods will be presented at the hotels where you stay. There will also be a photo spot where you can enjoy taking pictures with the Pokémon.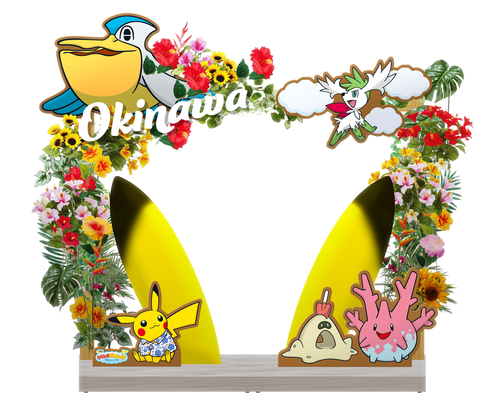 The following hotels are eligible:
Double Tree by Hilton Naha Shuri Castle (ダブルツリーbyヒルトン那覇首里城)
Hotel Monterey Okinawa Spa & Resort (ホテルモントレ沖縄スパ&リゾート)
Rizzan Sea Park Hotel Tancha Bay (リザンシーパークホテル谷茶ベイ)
Lequ Okinawa Chatan Spa & Resort (レクー沖縄北谷スパ&リゾート)
Hilton Okinawa Chatan Resort (ヒルトン沖縄北谷リゾート)
Loisir Hotel Naha (ロワジールホテル那覇)
Pikachu Project LeaLea One-Day Sightseeing Tour Chura Bus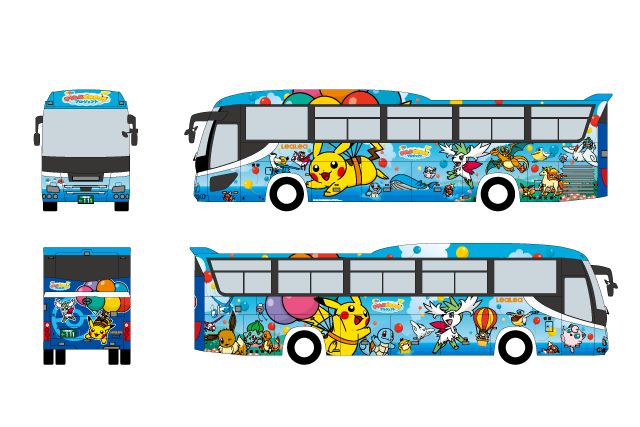 A bus tour called Flying Pikachu Project LeaLea One-Day Sightseeing Tour Chura Bus is also available. The bus, with a design of Pokémon playing happily in the ocean, will be operated by HIS and will take you to various tourist facilities that are involved in this project.
Flying Pikachu Project Digital Stamp Rally in OKINAWA
The Flying Pikachu Project Digital Stamp Rally in OKINAWA will be held starting on July 17th, 2021. You can collect stamps by visiting various facilities in Okinawa Prefecture where the Flying Pikachu Project is occuring. There are 14 stamp rally points in total, and if you collect stamps from at least three of them and bring them to the Flying Pikachu Project Special Shop at Naha Airport, you can get an original sticker. Collect stamps at various places as you tour around Okinawa.
Products featuring Pokémon on Okinawa's local specialties go on sale
Original products featuring Pikachu Flying of Okinawa will go on sale. We hope that these products will become a memento of your trip to Okinawa. These products will be sold at Naha Airport and at various facilities and stores in Okinawa Prefecture that sell souvenirs.
Kariyushi Wear
Sold by: Futaba Corporation
Kariyushi Wear, with the same pattern as the shirt that the Pikachu wearing Kariyushi Wear has, is now on sale. The Kariyushi wear is made of comfortable cotton material with a form-stabilizing finish for easy care. The silhouette of Pikachu is designed to blend in with the
Bingata pattern
.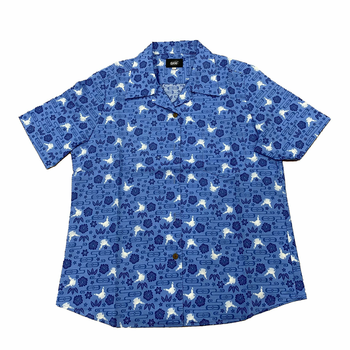 Beni Imo Tart (紅いもタルト)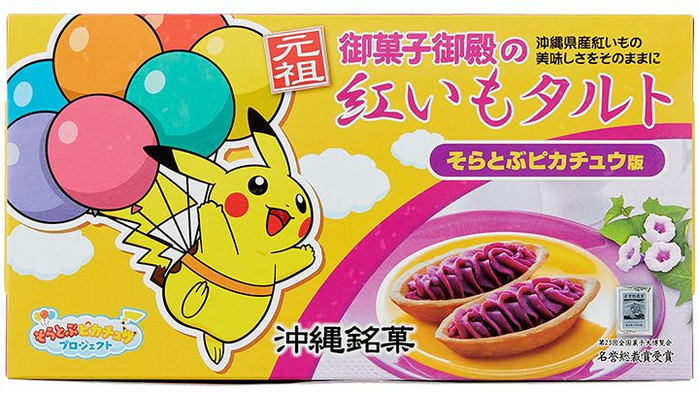 Distributed by: Okashi Goten Co., Ltd.
The exquisite combination of the paste made from 100% Okinawan red sweet potatoes and the tart dough baked with a unique formula is still as delicious as ever, 33 years after it was first sold. No preservatives or colorings are used to preserve the original flavor of the red sweet potatoes.
Peanut Tofu & Rich Mango Pudding
Distributor: Asahi Co., Ltd.
Jimami Tofu
, which is made by solidifying peanut juice, is popular as a side dish and dessert in Okinawa. Rich Mango Pudding contains a generous 25% of apple mango juice, bringing out the flavor of the ingredients.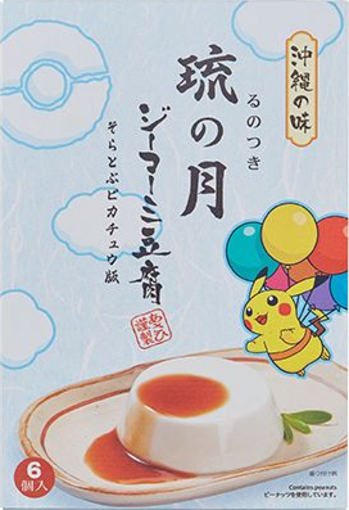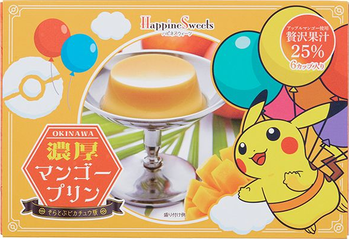 Jasmine Flower Tea (さんぴん花茶)
Distributed by: Okinawa Ito En Co.
Sanpin tea (Jasmine Flower Tea)
has been loved in Okinawa for a long time, and we have made it more flavorful while maintaining the aroma of flowers. It has been on the market for about 20 years and has been a favorite drink in Okinawa.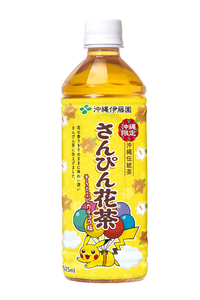 Flying Pikachu Project Original Goods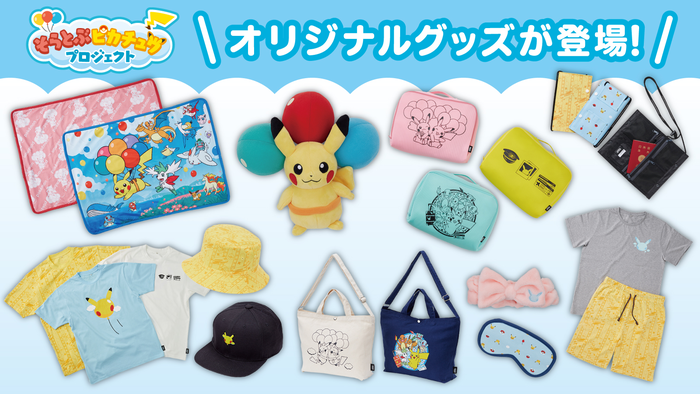 A collection original goods indispensable for travel, will go on sale on Monday, June 21th, 2021 based on the Flying Pikachu Project.
The following products are scheduled to be released.
1. Plush Toys and Mascots - 2,530 yen and 1,650 yen
2. Neck pillows - 1,650 yen
3. Blanket - 2,970 yen
4. T-shirts - 3,190 yen each
5. Hair band - 2,200 yen
6. Room shoes - 2,420 yen
7. Eye mask - 1,980 yen
8. Laundry Case - 1,980 yen
9. Room wear - Men's: 4,400 yen, Women's: 4,180 yen, Kids: 3,960 yen
10. Pouch - 2,200 yen
11. Passport Case - 3,080 yen
12. Tote bag - 2,220 yen
13. Travel Pouch - 3,850 yen
14. Plastic Bottle Holder - 1,980 yen
15. Cap and Hat - 2,200 yen and 2,420 yen
Flying Pikachu Project Original Goods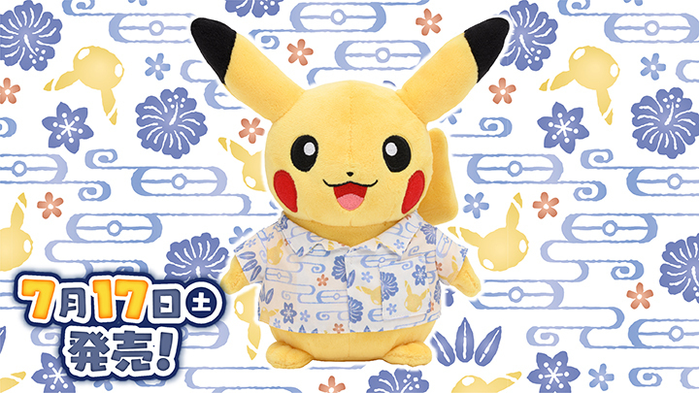 On Saturday, July 17th, 2021, to commemorate the inauguration of the Flying Pikachu Project, a plush Pikachu wearing the Kariyushi wear will appear at the Pokémon Store AEON MALL Okinawa Rycom for 2,420 yen! The release of the product may be postponed or cancelled due to the situation in the production area. Please be aware of this beforehand.
Flying Pikachu Project
Skymark Airlines is a member of the
Flying Pikachu Project
and which has goal of contributing to society by connecting people and communities. Skymark Airlines has collaborated with The Pokémon Company to make a Pikachu Jet that they hope that many people will see looking up in the sky and will get people to enjoy air travel.
Pikachu and its friends will liven up the skies over Japan! There's even a hidden Pikachu! Can you find it? On the bottom of the plane, there is a Pikachu peeking through the window, so look for it when you see the plane in the sky.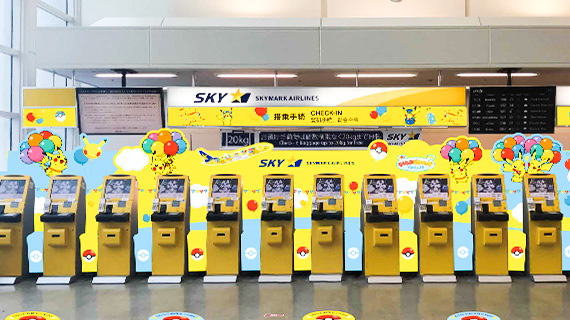 Pikachu's are all over the airport and the plane! It is on the check-in kiosks and boarding passes.
Sources:
https://flying-pikachu.com/jp/
and
https://smart.skymark.jp/ja/campaign/flying-pikachu/inflight.html
YouTube Clip - oricon news
Source:
https://www.youtube.com/watch?v=usgrLIWbzQo
YouTube Clip - Flying Pikachu Project
Original YouTube Source:
https://www.youtube.com/watch?v=LUZC7r-pgj0